LASU Students, Lectures Shun Resumption Directive
---
Last updated on
---
Students and lecturers of the Lagos State University (LASU) shun management's resumption directive.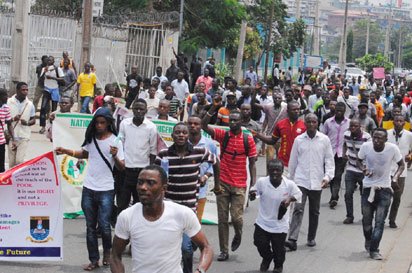 Despite the directive by the Lagos State University Management that students and lecturers of the institution should resume yesterday (Monday), no academic activities held in the school.
When our correspondent visited the school on Monday, he reported that students and lecturers were absent from classes.
It was also observed that the Ojo campus of the university was still scanty, despite the 30 to 60 percent decrease by the Lagos State Government.
Asked why the students had failed to resume, Students Union President of LASU, Nurudeen Yusuf said the new fee has not been totally accepted by the students.
He said the students may later resume but protests against the fee hike would not stop until their proposal was approved by the Lagos State Government.
Yusuf said, "Our students are willing to resume but we are not satisfied by the school fee pronounced by the management. WE want the fee to be further reduced. It is still unaffordable to majority of our students. We will still call a congress on that but it is commendable that our students understand the union's plight and the reason we are fighting for.
"We have not told any students not to resume. We are not the one that closed down the campuses, the school did. Even if we agree to resume, we will not stop the fight for further reduction."
When contacted, the Academic Staff Union of Universities, LASU branch chairman, Dr. Idris on why the lecturers refused to resume to classroom, he said, "As it is known, ASUU-LASU went on strike for three demands. It is not only for school fee and even the school fee demand as not been meant. Our demands are reversal of fee, which we later shifted ground to be place at N50, 000 across board; abrogation of no vacancy no promotion policy and implementation of university miscellaneous provision act of 2012.
"Our members did not go to the classroom for the reasons. Our congress will meet to review the fee reduction but the strike continues. Authority has not taken any action on any of the demands. Students can resume but our members will not teach." (Daily Times)
Ace Your Exams: Join Our Online Classes For JAMB, WAEC, NECO & NABTEB Candidates