Local Hunters Deployed to Chibok Ahead Students' for Exam
---
Last updated on
---
Local hunters has been deployed to Chibok town ahead the students who resume today to write 2nd and 3rd term examinations.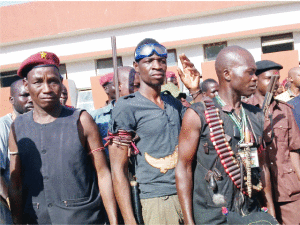 Local hunters under the aegis of the Vigilante Group of Nigeria have been deployed to Chibok town to provide security for junior secondary school (JSS) students, who are resuming to write both their second and third term examinations, official sources informed LEADERSHIP.
The Borno State government had in March announced the closure of all public schools, following increasing attacks on schools by the Boko Haram sect.
The hunters had as at yesterday moved to Chibok ahead the students, who resume today.
An official of the local vigilante group said they had been contacted to give the school and the students a security cover as they commence their exams, as parents had expressed fear that their wards' lives might be endangered, should they go back to school.
The junior secondary school is run by the Universal Basic Education Scheme in Borno State.
Apart from Government Secondary School, Chibok from where over 200 girls were abducted by Boko Haram, the UBE school, which has a primary as well as a junior secondary section, is the only public school in Chibok town.
Last week, the Borno State government had dispersed over 300 local hunters and members of the Vigilante Group of Nigeria from where they had assembled at a pilgrims' camp in Maiduguri, ready to go in search for and rescue the abducted schoolgirls from the Boko Haram. The state government had said that sending local hunters into the Sambisa forest would not only be suicidal for them, but could also interfere with the ongoing international efforts to rescue the girls.
Besides that, Governor Shettima had said he had no executive powers to sanction such local effort, as only the presidency was vested with that authority. Shettima, who addressed the hunters through his deputy governor, Zanna Mustapha, had said he would rather deploy them to guard the primary and secondary schools, when they resumed to write their promotional exams.
Officials of the vigilante group said that over 300 of their members had been deployed to Chibok alone, to secure the town as the students write their exams. (Leadership)
Ace Your Exams: Join Our Online Classes For JAMB, WAEC, NECO & NABTEB Candidates