UN SDSN Nigeria SDGs Advocates Programme 2023: Apply Now!
UN SDSN Nigeria SDGs Advocates Programme 2023: Nurturing the Next Gen Leaders.
UN SDSN Nigeria presents the 2023 SDGs Advocates Programme for Nigerian youths. This 3-month intensive training targets empowering 100 youths to further educate 100,000+ students & 5,000 community members on SDGs. Benefit from global collaborations, world recognition, and more. Apply by Aug 7, 2023, and champion sustainable change!
---
Updated on by Olusegun Fapohunda
---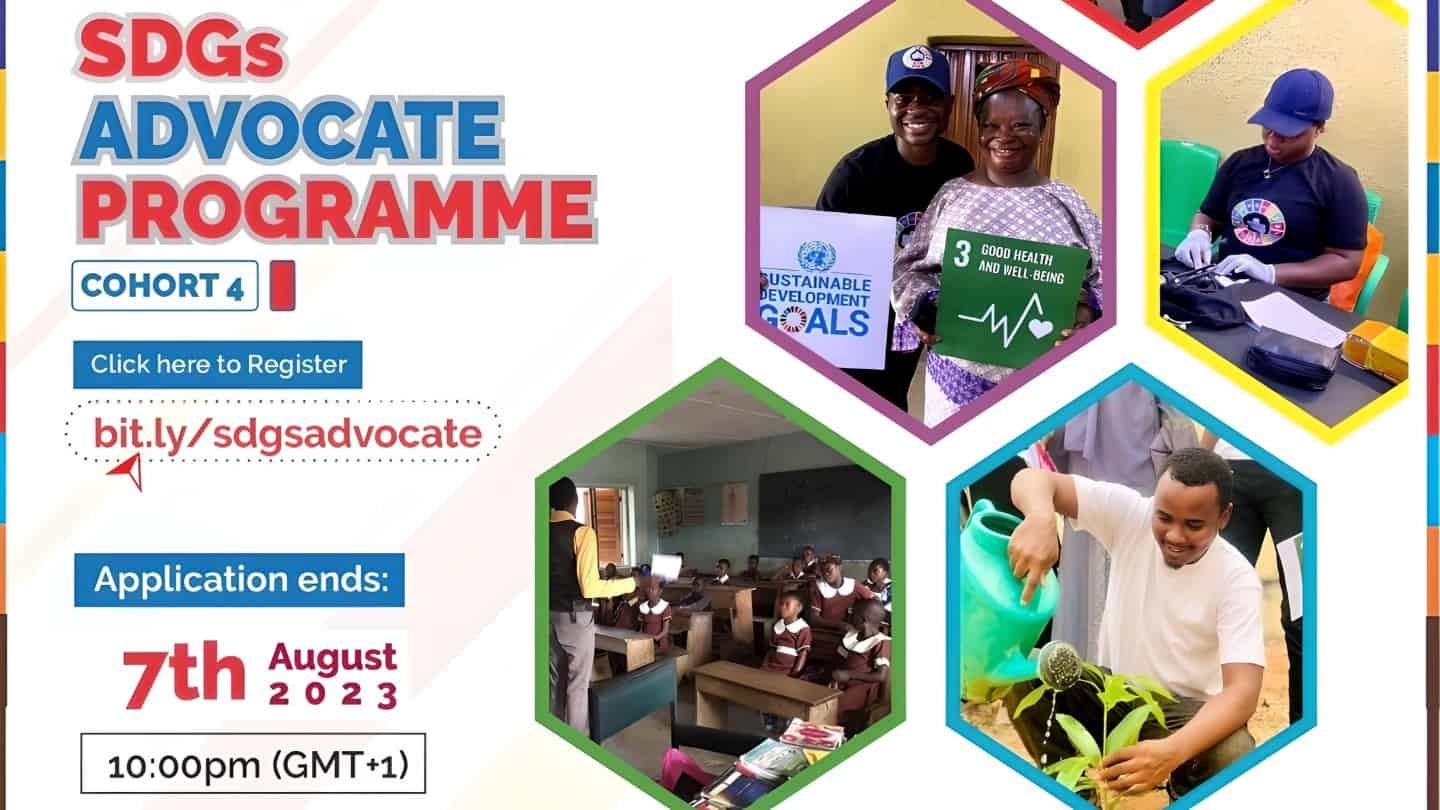 In a mission to elevate the awareness and application of sustainable development, the UN SDSN Nigeria unveils its SDGs Advocates Programme for 2023. Crafted with precision and foresight, this initiative is tailored to foster a generation of Nigerian youths who are equipped and inspired to champion the United Nations' Sustainable Development Goals (SDGs).
| | |
| --- | --- |
| 📣 Programme Open | UN SDSN Nigeria SDGs Advocates Programme 2023 for Youths. |
| 📆 Duration | 3-month long training including 20+ lectures, readings, and assessments. |
| 🎯 Strategic Plan | Train 100 youths to educate 100,000+ students and 5,000 community members using the trainer-of-trainers model. |
| 🌏 Focus Areas | Advocacy, SDGs, design thinking, problem framing; solutions for secondary and tertiary institutions. |
| 🎁 Benefits | Global collaborations, recognition, career development, capacity building, certifications/awards. |
| ✅ Eligibility | Young leaders (18-35): Corp members, undergraduates, polytechnic, CoE students, graduates/postgraduates. |
| 🗓️ Deadline | Register before August 7, 2023. |
Dive Deep into the Programme's Blueprint
The SDGs Advocates Programme stretches over a three-month horizon, embedding in its fabric an extensive curriculum. Participants can anticipate:
Over 20 compelling lectures that shed light on the intricacies of sustainable development.
Original reading materials that weave in-depth insights.
Comprehensive assessments designed to hone the knowledge and skills acquired.
The vision is clear and ambitious. Through this Cohort, 100 spirited youths will be meticulously trained. These young advocates will, in turn, impart knowledge to secondary school pupils and community groups. Utilising bespoke training documents and toolkits, the ripple effect aims to resonate with 100,000+ students and 5,000 community members, all through the trainers-of-trainers model.
Central to the programme's ethos is:
Educating about SDG advocacy and its practical application.
Diving deep into systems and design thinking.
Aiming to unravel challenges and craft solutions that resonate with secondary and tertiary institutions, anchored in the SDGs.
Why Join the Advocates Programme?
The perks of participating are manifold:
Forge collaborations with global changemakers, expanding your network and horizons.
Attain international acclaim as an SDG Advocate, bolstering your global footprint.
Benefit from leadership tutelage and career development insights.
Participate in the capacity-building of fellow youths, translating global objectives into local realities.
Upon successful completion, gain certification and accolades that elevate your profile.
Is this Programme for You?
This transformative journey is seeking:
Young visionaries aged between 18 and 35, fuelled by a passion for the SDGs and the 2030 Agenda.
Those in the spectrum include serving Corp Members, undergraduates from diverse universities, polytechnic and College of Education students, as well as fresh graduates and postgraduates.
Embark on the Journey
If you're ignited by a desire to learn and catalyse impact towards the SDGs, this is your clarion call.
Eager to champion sustainable development? Apply now.
For an in-depth perspective on the initiative, delve into the SDGs Advocates Programme. Remember, the gates close on August 7, 2023.
The future beckons, and it's sustainable. The UN SDSN Nigeria SDGs Advocates Programme is more than just training. It's about crafting leaders, forging connections, and driving tangible change. Become a part of this transformative narrative.
RECOMMENDED: Check Here for More Scholarships and Opportunities.