LASU Students Join Lecturers on Reduction of Fees
---
Last Updated on
---
LASU Students Join Lecturers on Reduction of Fees: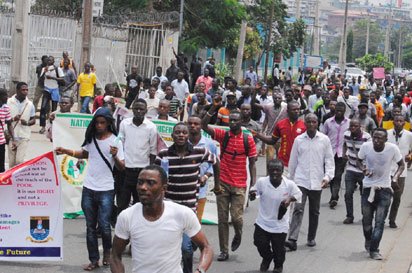 The Lagos State University Students Union (LASUSU) on Thursday joined their lecturers in urging the Lagos State Government to reduce tuition fee in the institution.
Its President, Mr Nurudeen Yusuf, told the News Agency of Nigeria (NAN) in Lagos that the reduction was necessary before the commencement of payment for the 2013/2014 academic session tuition.
NAN reports that the students, at its Congress on May 8, agreed that they would not pay the high tuition fee approved by the government.
Yusuf said the union had submitted a proposal to Gov. Babatunde Fashola on April 3 for the reduction of the fee as requested by him.
According to Yusuf, the union, having met with the students on April 7, came up with a proposal of N46, 500 for returning students and N65, 500 for fresh students as the new tuition fee.
He said the proposal on the amended fee was submitted to the governor on April 24, including a list of 86 students who withdrew from the institution due to increased fee.
Meanwhile, the state government had, on May 13, said it would soon make a pronouncement on a slash of the tuition fee.
Mrs Olayinka Oladunjoye, the Commissioner for Education, had told newsmen at the 2014 Ministerial briefing in Lagos that government was making efforts to end the crisis in the university.
The students, on May 15, staged a peaceful march from Idumota to CMS, Lagos Island, demanding immediate reduction of the fee.
Yusuf said the union was not ready to accept promises by the government to implement the slash soon, describing it as a political statement.
"The governor has confirmed that he has gotten our proposal and said that the slash would be implemented soon,  but it is just a political statement and we would not accept that,'' he said.
Yusuf said the reduction had to be implemented immediately because the university authority would expect the students to pay their fees within two weeks of resumption.
"If the approval for the reduction comes after the students have paid the increased fees, refunding the balance afterward would be difficult," the students leader said. (NAN)