Abraham Adesanya Polytechnic (AAPOLY) Notice to all Students on JAMB Regularisation
Abraham Adesanya Polytechnic (AAPOLY) Notice to all Students on JAMB Regularisation
Abraham Adesanya Polytechnic (AAPOLY) notice to all students admitted between the years 2017 and 2020 on JAMB regularisation.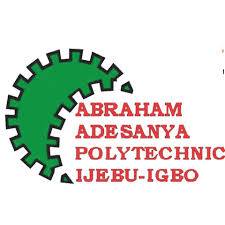 All students who did not use JAMB for their admission to the polytechnic between 2017 and 2020, and those who were admitted but could not print their JAMB admission letters for one reason or another, are hereby notified to report immediately to the JAMB office in Abeokuta to regularise their admission with JAMB.
Please be advised that no Admission Letters will be issued to students who have not processed their admission before Friday, 8th July 2022.