ASUU: FG Rejected Suggestion to Involve Shagari, Obasanjo and Others
---
Last Updated on
---
ASUU: FG Rejected Suggestion to Involve Shagari, Obasanjo and Others: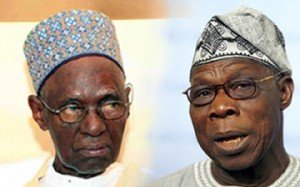 The Federal Government has rejected the suggestion to involve past Presidents/Heads of States, governors and traditional rulers in its current face-off with the Academic Staff Union of Universities.
National President of Nigerian Union of Teachers, Michael Olukoya, had after a palliative meeting with the Minister of Education, Nyeson Wike; and the Minister of Labour and Productivity, Emeka Wogu, in Abuja offered the suggestion.
The suggestion came to the heels of recent treats by the NUT to embark on sympathy strike with ASUU, if government failed to resolve the crisis.
Although Wike told journalists that the advice would be looked into but investigations by our correspondent revealed that the government's team had not considered heeding the advice almost four weeks after it was given.
Our correspondent also learnt on Monday that the NUT had been taking submission from its state executives on the modalities and strategies to adopt in their sympathy strike with ASUU.
A government source who spoke to our correspondent in confidence said, "The Federal Government team is strong enough to broker peace with ASUU. There is no need in involving other persons not in government in the discussion when we are already achieving progress".
Asked why the government made commitment to the NUT when it was suggested, the source reply, "There was no commitment anywhere. It was a meeting where stakeholders express their desire to move the sector forward. So it was out of mutual respect that both parties spoke."
When contacted on whether the government has taken steps to involve the past leaders as promised, Special Assistant (Media) to Wike, Simeon Nwakaudu said, " I don't understand what you mean by promise. All I can say is that government is desirous to find a lasting solution. And it is working towards that."
Olukoya had suggested that given the inability of some committees earlier set up to settle the crisis, the Federal Government should seek the intervention of past presidents, governors, traditional rulers and serving Senators.
He said, "With the way this strike has lingered on for three months, we believe government should explore all modalities to end it. Government should invite past heads of states, speakers, senators , ministers of labour and education and every other stakeholder in the sector to resolve this ugly situation.
"Call powerful voices like traditional leaders to intervene in this strike because our concern as teachers is that as these undergraduates stay at home, they are prone to negative vices and in turn these are the same people that would lead the society in future."
TAGGED: ASUU Strike Update