BUK is One of the Best Centres of Excellence in ICT -vNCC
---
Last Updated on
---
The National Communications Commission (NCC), the only statutory body responsible for the regulation of communication industries in the country has described Bayero University, Kano as one of the best Centres of Excellence in Information and Communication Technology (ICT).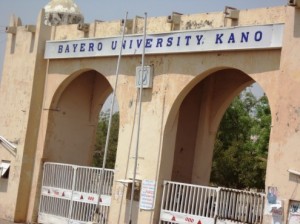 The commission's Commissioner, Alhaji Mohammed Batube, who led other management staff of the organization to a courtesy call on the Vice-Chancellor, Professor Abubakar Adamu Rasheed, mni, MFR on Monday 2nd March, 2015 said, "we are highly impressed by what we saw on ground. Your effort in prioritizing Information Technology both in the area of teaching and research is by all standards encouraging and commendable."
Alhaji Batube said, by the commission's standard and based on "our assessment of what we practically observed on ground, we have no option     but       to classify BUK's ICT
experimentation as one of the best Centres of Excellence in the field of ICT," he remarked.
He said NCC would continue to identify and support BUK and any other institutions that prioritize ICT, because according to him, doing that was part of its social responsibilities to the society.
The NCC Commissioner recalled that in the year 2000         when   Mobile Telecommunications
business came into the country there were only 400 lines/subscribers, but that as at December last year, there were well over 130,000,000 lines. Because of this tremendous growth, the country lacked the required expertise to manage the growth, hence the need to support and encourage any institution that shifted emphasis in training personnel on ICT.
He said it was not by accident that NCC was assisting BUK in its ICT development, adding that "even today we are donating about 87 copies of books on ICT to BUK to assist the institution continue to expand and improve on its ICT transformation."
Alhaji Batube explained that part of the reason why they visited BUK was for them to see the level of advancement the university recorded in the area of its ICT, saying that "we are fully satisfied with what we saw in the faculty and Centre of ICT."
Responding, the Vice-Chancellor, Professor Abubakar Adamu Rasheed, said the university was touched by the level of support and assistance it had been receiving from NCC, saying that apart from establishing Information and Technology learning centres, donation of computers, 'today you are again donating ICT Books to us. We feel seriously encouraged, and we promise to redouble our efforts in joining the crusade to help spread the gospel of ICT in Nigeria."