4th Global Campus Visual Contest: Open Call to Photographers and Video-Makers
---
Updated on by Olusegun Fapohunda
---
The Global Campus of Human Rights is now accepting entries for its Fourth Global Campus Visual Contest from photographers and video-makers, professionals and amateurs, from any part of the world.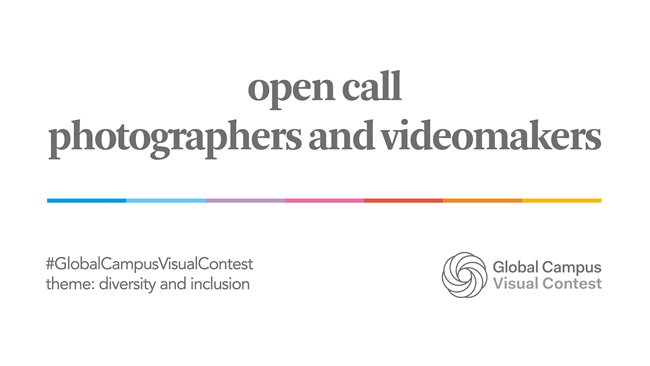 The Global Campus of Human Rights is a unique network of one hundred participating universities around the world, seeking to advance human rights and democracy through regional and global cooperation for education and research. This global network is promoted through seven Regional Programmes based in Venice (for Europe), Sarajevo/Bologna (for South East Europe), Yerevan (for the Caucasus), Pretoria (for Africa), Bangkok (for Asia-Pacific), Buenos Aires (for Latin America and the Caribbean) and Beirut (for the Arab world).
These Regional Programmes offer high-level, specialised post-graduate education and training in human rights and democracy from a regional perspective and with interdisciplinary content, as well as a multiplicity of research, publications, public events and outreach activities.
In this context, cultural events and art are considered to have a key role, positively influencing civil society and encouraging activism and concrete social change.
The Global Campus Visual Contest.
The goal of the contest is to create synergies between academia, Human Rights defenders and artists to reach a wider international public and foster a better understanding of the issues concerning human rights and their protection.
The Global Campus invites photographers and video-makers, professional and amateur, from all over the world to submit their work.
The competition will have two category levels, for professional artists and amateurs to which students and Alumni from the Global Campus are particularly encouraged to apply. A number of images and videos will be selected to be displayed on a dedicated online gallery and in connection to GC events/activities ensuring international exposure also thanks to different partners and social media channels. The international jury is comprised of renowned international photographers such as Nick Dazinger, Maja Nydal Eriksen, and experts in media and social campaigns such as Una Bejtovic and from the academia such as Rod Stoneman, Emeritus Professor at the National University of Ireland, Galway.
Global Campus Visual Contest Theme.
The theme for 2018 is "Diversity and Inclusion".
Our societies are increasingly diverse in terms of values, beliefs not to mention characteristics like gender, sexual orientation, culture, language, and more. Inclusion is how we try to bring out the unique strengths of individuals, groups and institutions.
Evidence shows that by adopting and integrating inclusive practices and policies, and by managing them well, institutions and the people within them thrive. The GC Visual Contest originates from the belief that photography and videos are powerful tools that can raise awareness and push for social change. Furthermore, the purpose of this contest is to create a network of artists, intellectuals and professionals interested in strengthening the protection of human rights and the promotion of democracy and peace.
Global Campus Visual Contest Selection.
The best pictures and short videos could receive special mentions by the partners of the contest and will be presented at the events of the Regional Masters of the Global Campus in Africa, Asia-Pacific, Caucasus, Latin America and the Caribbean, Middle East and North Africa, South East Europe.
This initiative is funded by the European Union and receives the patronage of the United Nations Regional Information centre for Western Europe (UNRIC).
You can follow the visual contest with the hashtag #GlobalCampusVisualContest #GCHumanRights #diversity #inclusion on Facebook, Twitter, Google + and Instagram.
Global Campus Visual Contest : Rules for Video & Photographic Entries.
During the entry period, you can submit your photo by uploading it online. Entries submitted by e-mail or regular post will not be accepted.
The number of images submitted by each participant is restricted to one.
The uploaded image must be in digital format, longest dimension should not exceed 1900 pixels (minimum 800px width), JPEG/72 dpi recommended. Selected candidates must be able to provide a high resolution digital file (minimum 2000px wide at 300dpi) for publication or display purposes related to the contest.
Read carefully the regulation and fill the online entry form.
All entries must be accompanied by:

name and surname of the photographer
date of birth
country of residence
a description (maximum 100 words in English) of the submitted material explaining how the image represents the theme "Memory and reconciliation"
a caption to include the object, date, location

Participants will be the 100% owners and creators of the photo they submit. Copyright of the image will remain at all times with the photographer. The photo must not contain material that violates, misappropriates, or infringes upon any law or regulation or the rights of any third party, including any copyright, trademark, or any rights of publicity or privacy, or any other intellectual property rights.
Images will be used in connection to the Contest and may be used also to promote the educational objectives and activities of the GC. To promote the Contest and related events, Global Campus is granted the right to display the images submitted on social network websites. The name of the author will be always indicated.
Entries will be judged by nominated judges on the basis of subject, originality, and style.
There is no entrance fee.
Apply Here Official Link
Apply Before: The visual contest will be open from 1st March and will accept submissions through 4th May 2018.
RECOMMENDED: Check Here for More Scholarships and Opportunities.