Mastercard On-campus Scholarships at University of Edinburgh
In a time when the climate crisis commands the world's attention, where might ambitious scholars from Sub-Saharan Africa find avenues to make a difference? Can a prestigious institution like the University of Edinburgh offer them the necessary tools? Is there a dedicated programme that recognises their potential and offers comprehensive support? Indeed, the Mastercard Foundation On-campus Postgraduate Scholarships 2023/2024 beckons as a transformative opportunity.
---
---
The University of Edinburgh, in collaboration with the Mastercard Foundation, is thrilled to announce the On-campus Postgraduate Scholarships for the academic year 2023/2024. Aimed at fostering a new generation of global leaders, this programme is an exceptional opportunity for young talents across Sub-Saharan Africa.
| | |
| --- | --- |
| 📜 Programme | Mastercard Foundation On-campus Postgraduate Scholarships 2023/2024 |
| 🌱 Focus | Addressing climate crisis; Supporting Sub-Saharan African leaders |
| 🎓 Courses | Sustainable Energy, Food Security, Climate Change Finance, etc. |
| 💰 Benefits | Tuition, accommodation, travel, stipend, study materials, leadership programmes |
| 📝 Eligibility | Academic qualifications, Sub-Saharan African residency, leadership traits, age ≤ 35 |
| 🌟 Priority | Female scholars, refugees, scholars with disabilities |
| ⚖️ Selection | Academic merit, leadership, application quality, potential impact, faced educational barriers |
| 📅 Deadline | December 7, 2023 |
Aims of the Scholarship Programme
The Mastercard Foundation Scholars Program is committed to addressing the prevailing climate crisis on a global scale. Beyond the realm of traditional scholarship programmes, this initiative:
Aims to make a significant impact on the climate crisis.
Endeavours to cultivate a talented, entrepreneurial, and compassionate community of leaders from across Sub-Saharan Africa.

Empowers young scholars

with the requisite knowledge, skills, and networking capabilities to spearhead sustainable transitions.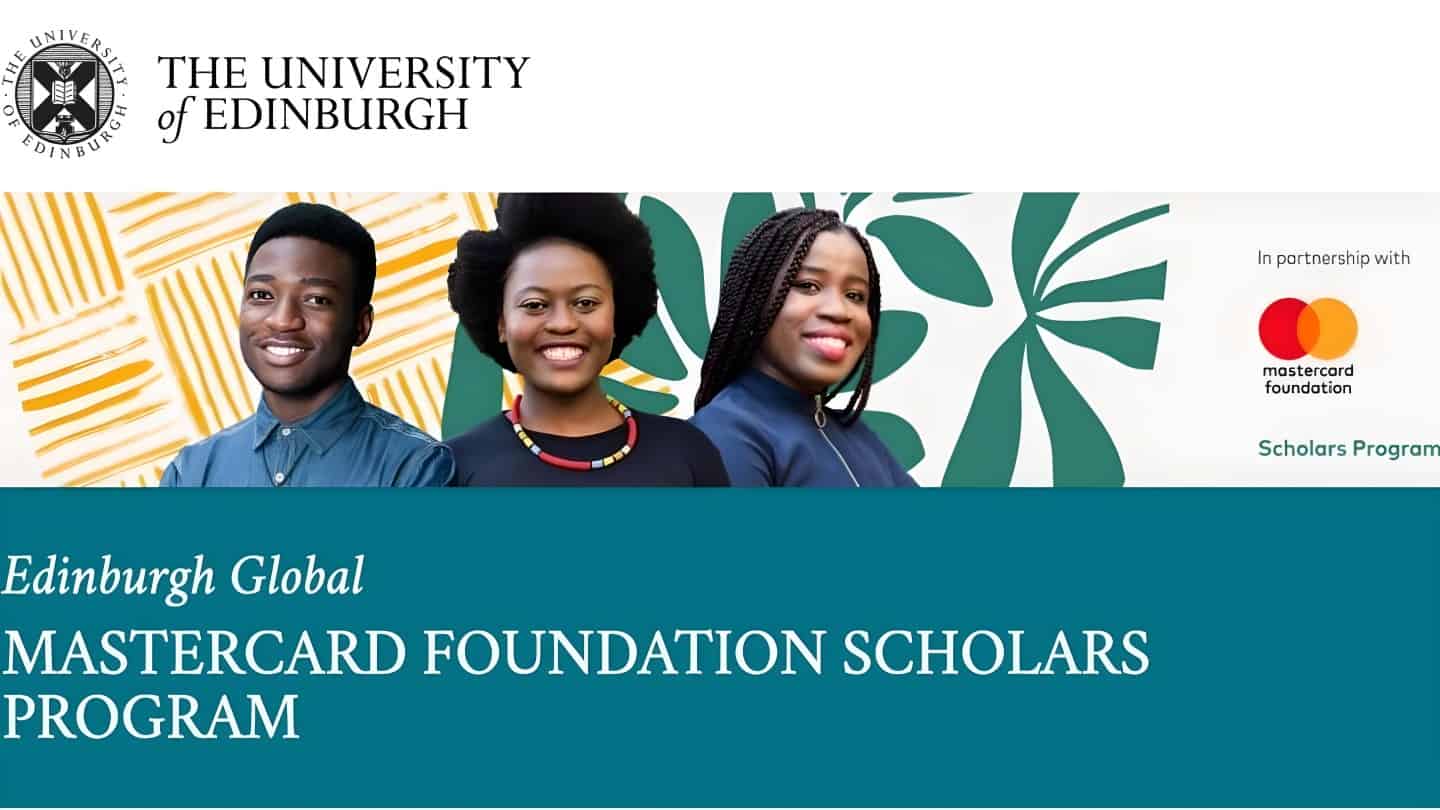 By affiliating with the University of Edinburgh, this scholarship programme extends unparalleled, sustainability-focused postgraduate opportunities.
Available On-campus Postgraduate Programmes
Successful candidates will be granted a one-year on-campus scholarship in the following specialisations:
Africa and International Development
Food Security
Sustainable Energy Systems
Entrepreneurship and Innovation
Data, Inequality and Society
Operational Research
Environmental Sustainability
Climate Change Finance and Investment
Planetary Health
Environment & Development
Scholarship Benefits
The scholars stand to gain a comprehensive package that includes:
Full coverage

of approved tuition, accommodation, travel, living costs, and study materials.
Participation in a climate leadership programme, geared towards fostering change within their native communities and countries.
Tailored support for scholars with disabilities, based on a thorough needs assessment.
Eligibility Criteria
To qualify for this esteemed scholarship, applicants must:
Secure an academic position at the University of Edinburgh for one of the aforementioned degree programmes. Typically, a UK Second Class (Upper) Bachelor's (Hons) degree or its equivalent is a prerequisite.
Have encountered considerable obstacles in their educational journey, whether social, financial, personal, practical, or health-related.
Complete their undergraduate studies by September 2023 and provide their degree certificate and final transcript by 7 December 2023.
Be a resident, citizen, or refugee in a Sub-Saharan African nation.
Exhibit a history of leadership and community service.
Demonstrate tangible experience or ambition to address the climate crisis.
Be aged 35 or below as of 1 September 2024.
Refrain from pursuing a postgraduate degree elsewhere while benefiting from the Mastercard Foundation Scholarship.
Notably, the programme welcomes applications from female scholars, individuals with refugee or displaced backgrounds, and those with disabilities.
Selection Process
The university adopts a comprehensive selection methodology, taking into account:
The academic prowess of the candidate.
Proven track record in leadership roles and community service.
Alignment of the application with the theme of climate justice.
The prospective impact on the development of the applicant's homeland.
History of overcoming educational barriers.
How to Apply
For those solely targeting the Mastercard Foundation Scholarship, it's advised to commence the application process through the scholarship programme. Following the receipt of a scholarship offer, candidates can then apply for their chosen programme at the University of Edinburgh.
Click here to initiate your application.
For a more in-depth overview, consider visiting the Mastercard Foundation Scholars Program official webpage.
Application Deadline: December 7, 2023.
This scholarship presents an unrivalled opportunity to drive change, innovate, and lead. It is not merely a financial aid; it's a movement for the betterment of our planet.
RECOMMENDED: Check Here for More Scholarships and Opportunities.