Registrar Job Vacancy at Federal University Lafia
Federal University Lafia, FULAFIA is seeking applications from suitably qualified candidates to apply for the position of the university REGISTRAR.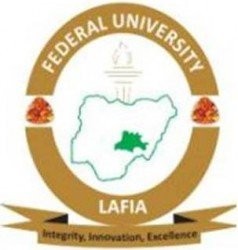 Federal University Lafia was established in February, 2011 with the mandate to increase access and quality of University education in Nigeria.  The University which currently has three (3) Faculties and seventeen (17) academic programmes is poised for accelerated expansion of academic activities.
Applications are invited from suitably qualified candidates for the vacant position below:
THE REGISTRAR
The Registrar is the Chief Administrative Officer of the University, responsible to the Vice-Chancellor for the day-to-day administration of the University. The Registrar by virtue of the office is Secretary to the Council, the Senate, Congregation and Convocation.
REQUIREMENTS FOR THE CANDIDATE
The candidate for the post of Registrar must possess a good honours degree from a recognized University, with at least fifteen (15) years relevant post-qualification experience in a University. Possession of higher degree(s), professional qualifications and membership of professional bodies will be an added advantage. The candidate is also expected to:
1.Not be below the rank of Deputy Registrar;
2. Show demonstrable evidence of consummate management and leadership passion and drive in previous positions and in addition, must possess excellent communication and interpersonal relationship skills;
3. Exhibit the ability to be a team leader, who leads by example, has clear mentorship skills and plans, should not be older than sixty (60) years of age upon appointment;
4. Enjoy strong physical and mental health;
5. Possess personal integrity, demonstrate transparency in private and public life, be able to command the respect and loyalty of staff, students and other members of the University Community;
6. Be computer literate and have a good working understanding of communication by internet;
7. Must have a good working knowledge of current administrative principles, processes and practices.
TERMS AND CONDITIONS OF SERVICE APPLICABLE TO THE POST
The Registrar shall hold office for a single term of five (5) years only on such terms and conditions as may be specified in the letter of appointment. The remuneration and other conditions of service are as applicable to the post of Registrar in all Federal Universities in Nigeria and as may be determined from time to time by the Federal Government and the Governing Council of the University.
METHOD OF APPLICATION
´  Each application, including the candidate's detailed curriculum vitae duly signed should be made in twenty (20) copies. The curriculum vitae must contain, among other things, the candidate's full name, age, marital status, educational attainment, State of origin, professional and academic achievements.
´  Each application should include the names and addresses of three (3) referees. Each applicant should request each of his/her referees to forward, direct to the Vice-Chancellor, a confidential report on the candidate's character, academic and managerial abilities in a properly sealed envelope marked Post of Registrar: Referee's Report, with name of candidate at the top left hand corner of the envelope.
´  All applications and referees' reports should be submitted not later than six (6) weeks from the date of this publication under confidential cover, and addressed to:
The Vice-Chancellor
Federal University Lafia
P. M. B. 146, Lafia
Nasarawa State.
MSG Team.
CLICK HERE for more Job postings.
If you think this post can be helpful to somebody else, please share it on Whatsapp, Twitter, Facebook. There are buttons below for this (easy to use too)!
Tagged With : www.fulafia.edu.ng | Federal University Lafia : FULAFIA