Save LASU Campaign Movement Protests In Lagos
---
---
A body known as "The Save Lagos State University' (SAVE LASU) Campaign Movement, staged a peaceful protest on Wednesday at Ogba, near Lagos.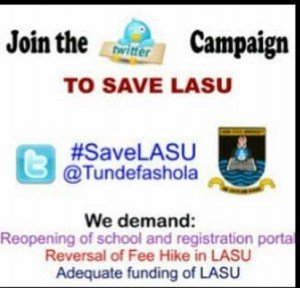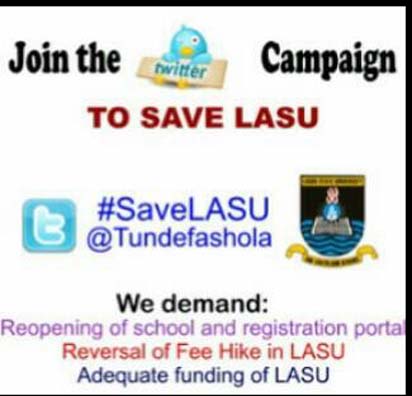 The News Agency of Nigeria (NAN) learnt that the protest was in response to the high fees imposed on newly-admitted students of the institution.
The protesting groups are made up of members of the Save LASU groups, made up of the Education Rights Campaign (ERC), National Union of LASU Students and some sympathetic members of the public.
The groups had chanted solidarity songs, while marching from the International Press Centre, Dideolu Court, Ogba, where they had addressed reporters.
They carried placards with inscriptions, `Fee hike, the root cause of crisis in LASU', `Save LASU Save the future'' and "LASU is for all and not the rich only'.
The National Coordinator of the ERC, Mr Hassan Soweto, said that his group was campaigning to reposition LASU.
Soweto said that the protest was also intended to sensitise members of the public on the need to rescue the institution from collapse.
"The Save LASU Campaign has the interest of not just, LASU students but youths out there, who have been deprived of quality education, due to the obnoxious policies of the state.
"We have employed the use of intellectual and mass protest, so as to help us to achieve our aim of making LASU a citadel per excellence," he said.
The coordinator noted that the group would march peacefully to the Lagos State House of Assembly on Feb. 18 to submit a petition.
According to Soweto, the petition will demand among other things, the immediate re-opening of LASU, re-starting of the registration portal and a reversal of the fee hike.
He said that they would demand adequate funding as well as democratic management of the university.
The group also warned that student should not be made to pay compensation or victimised as a result of the protest that led to the closure of the institution.
"We call on all well-meaning Lagosians, Nigerians, `LASUITES' and the world at large, who believe that education is right and not a privilege to help to form a force against the cabal, who wish to price education out of the reach of the poor,'' he said.
The coordinator also urged the Lagos State Government to comply with the recommendation of UNESCO that 25 per cent of state's annual budgets should be devoted to education.
According to him, a state that generates over N80 billion monthly as internally Generated Revenue should not leave the funding of the university to the fees of students.
NAN recalls that the management of LASU shut down the institution indefinitely on Jan. 23, following a protest by some students of the institution over what they claimed was outrageous fees being charged. (NAN)