NUGA: Tension Rises in OAU as Students Barricade Hall Entrance
---
Last Updated on
---
Three days to the official commencement of the Nigerian University Games (NUGA) holding at Obafemi Awolowo University, Ile-Ife, a tug of war was staged between the residents of Awolowo Hall and the Security operatives on ground for the Varsity games. The armed Security men, who included Swift Action Squad (SAS), Nigerian Civil Defense, and Nigeria Police Force, were on patrol to the halls of residence, got to Awolowo hall around 1:00 PM. According to sources, they were on patrol to chase OAU Students out of hostels to allow the participating schools reside in the halls for the NUGA.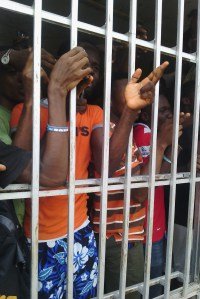 Sighted from afar, the occupants of Awolowo hall trooped out in their numbers, chanting and ranting to send the operatives away. They also blocked all the entrances into the hostel after chasing the Hall porters and warden away. The students expressed their dissatisfaction over the school authority's order to chase them out of the halls because of visitors saying no parents send their children out of the house because they are expecting visitors.
Association of Campus Journalists (ACJ) correspondents gathered that, the authority of the University through a circular signed by the school registrar had earlier ordered all students to vacate the halls of residence for the participating schools to reside for the Varsity games. However, it was garnered that while occupants of most halls of residence have left, majority of occupants of Awolowo hall are still around.
As at the time of filing this report, the main entrance of Awolowo hall remains locked. Our correspondents gathered that the management's plan is to allow the residents stay in Block 1, 2, 3, 4 and annexes in the hall.
In the meantime, accreditation of the participating schools and other officials are ongoing at the University Sports' Center while the game kicks off officially Saturday, 15th of February.
Source: Association of Campus Journalists, OAU