The Plea on Oath – LornaMarie [Get a Review Copy]
'The Plea on Oath' is a down to earth story about facing the reality of our everyday life, some raw facts of the evils that behoves our day to day lives like gambling, extortion, blackmail, and issues that people face in their marriages or perhaps in their homes.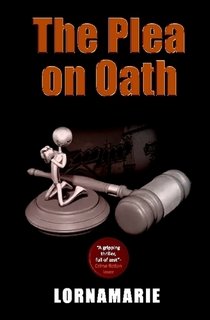 Most people bottle a lot inside their head and carry on working everyday. I mean professionals like the couple in the book Segun and Temitope. It is never going to be easy for any couple to try and try to have a child for more than fifteen years without a head way. Even IVF did not work! There was a lot of issues that got complicated for the hero character. He had to face death in the family under tragic circumstances. He felt uncommon pain. It was natural to give in to bad habits. Gambling has destroyed so many lives. We saw how gambling was so infectious in my story; it was passed down from a friend to another friend. They went out to relax and before we knew what was going on both friends have influenced one-another and both became chronic gamblers.
I think it is time for us to debate the issues brought alive in the story. We saw in the story how life savings disappeared on gambling the characters. When someone is addicted to drugs, at least you know that you could be rehabilitated by checking into centres established for that purpose. But when someone is addicted to gambling, how do you handle that? Becoming broke, busted and disgusted is not a joke, it is not a child's play. It is a demon that eats a person up like a cankerworm. It is like an alligator. The gambler gets eaten upon inside by an invisible evil no one can ever see. The more he does it the more he want to do it.
A gambling addict loves his or her family but the demon eating him or her up inside will just not let them show their love or be there for their loved one.
Inside their head is this fake ambition that one day you will become rich, that you will win, that you can get away with all the loss that you have made. That you could do it just one more time and not come back to it, because you have now got to a successful end with success. But that was not the case in my story. It was catastrophic. You will have to find out why?
What led to extortion? I bet your guess is as good as mine. Gambling and Extortion are first cousins if I can put it that way. The story revealed how desperate an addict could become and to what extent they could go.
In that marriage I narrated in my book these habits tragically took lives away. It lead to a court trial someone was jailed for life, narrowly escaped execution.
By the time I finished the last chapter. I starred at myself again. I felt better now that I have written it all down and got it off my chest. This time it is not like the non- fiction books that I had written in the past. It is a story in my head.
Thank you for letting me share 'The Plea On Oath' with you.
Lornamarie
If you think this post can be helpful to somebody else, please share it on Whatsapp, Twitter, Facebook. There are buttons below for this (easy to use too)!