Topfaith University Courses
---
Courses in Topfaith University » Below is the list of undergraduate courses offered by the Topfaith University, Mkpatak, Akwa Ibom State.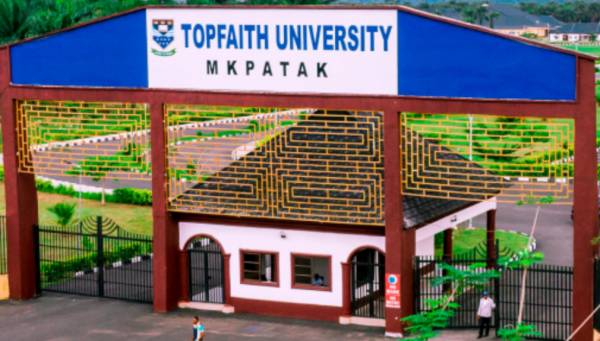 The Topfaith University is a privately-owned university in Mkpatak, Akwa Ibom State, Nigeria. It is a modern private University with cutting-edge facilities and a perspective educational global philosophy.
Topfaith University has been officially accredited and/or recognized by the National Universities Commission (NUC), Nigeria.
Do you want to find out the list of courses you can study at Topfaith University? Below is the list of high-quality courses on offer at Topfaith University.
Topfaith University Courses
ACCOUNTING
BIOCHEMISTRY
BIOTECHNOLOGY
BUSINESS ADMINISTRATION
COMPUTER ENGINEERING:
COMPUTER SCIENCE
CRIMINOLOGY AND SECURITY STUDIES
ECONOMICS
ELECTRICAL/ELECTRONICS ENGINEERING
LAW
MASS COMMUNICATION
MATHEMATICS
PETROLEUM AND GAS ENGINEERING
PHYSICS WITH ELECTRONICS
SOFTWARE ENGINEERING
TELECOMMUNICATION ENGINEERING
Also Check:
SEE THESE: Topfaith University School Fees and How to Apply for Topfaith University Admission Form.
TAGGED: www.topfaith.edu.ng | Topfaith University
Use the Drop Down Below to View Courses offered by other accreditted Nigerian Universities