Topfaith University Matriculation Ceremony Schedule for 2021/2022 Academic Session
Topfaith University matriculation ceremony date, time and venue for the 2021/2022 academic session newly admitted candidates.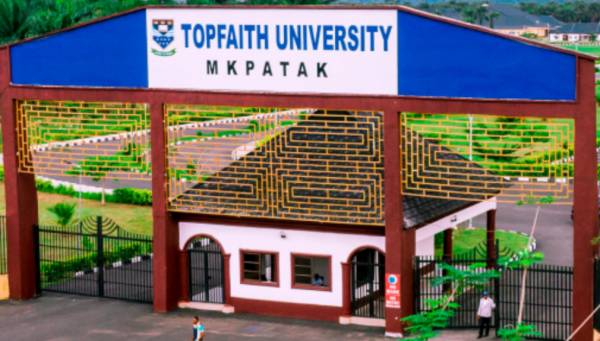 The management of the Topfaith University, Mkpatak, Akwa Ibom State, has released the schedule for the 2021/2022 academic session matriculation ceremony 1st/pioneer set.
Topfaith University Matriculation Ceremony Schedule
The matriculation ceremony meant to officially usher in the newly admitted students of the Topfaith University has been scheduled to be held as follows:
DATE: Saturday, May 7, 2022
TIME: 10:00am
VENUE: Topfaith University Hub, Mkpatak
Below is the statement published by the management:
On Saturday, May 7, 2022,Topfaith University, Mkpatak will have the privilege to matriculate over 100 pioneer students from various bachelors' degree programmes in the school. Therefore, we are excited to welcome the public, parents and loved ones, and lovers of quality education to the epoch-making events of the formal inauguration of TU and the first Matriculation ceremonies.
We use this opportunity to congratulate our treasured children who have availed themselves of the opportunities created at TU for an all-embracing 21st education, as TU continues to solidify its resolve to DISCOVER, DEVELOP and DEPLOY talents.
For interested candidates who want to join us at TU for the 2022/ 2023 academic year, visit our website at www.topfaith.edu.ng for information on admission, fees and campus life.
Once again, we welcome all and congratulate our pioneer matriculating Topfaith University students.
Share This Post

: If you think this post can be helpful to somebody else, please share it using the buttons below!
Follow

Us

More Posts From ›› www.topfaith.edu.ng | Topfaith University