#United4Food Competition for Nigerian Students 2017 | Up to N500,000 for Grab
---
Updated on by Olusegun Fapohunda
---
#United4Food Competition for Nigerian Students. There are no rules, no guidelines, no boxes. Go on and create!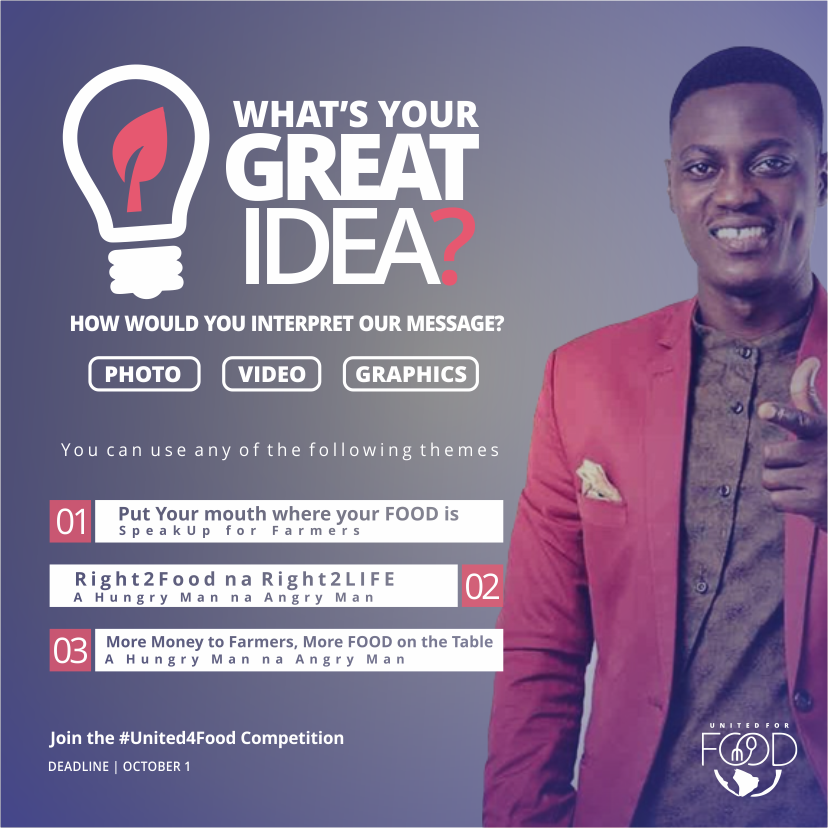 Oxfam in Nigeria Food Security Ambassador and ace musician Sound Sultan has launched a #United4Food campaign in collaboration with The Human and Environmental Development Agenda (HEDA Resource Centre). The project is part of a global food security campaign by Oxfam, and Voices for Food Security (VFS) which is the main collaborating network in Nigeria.
The #United4Food campaign seeks to engage and empower youths in the advocacy for food security using the power of creativity and social media. You can call us food security ninjas 🙂
We have three messages we want to pass across to people. We need you, to use that healthy dose of creativity to represent these themes visually and make people go awww at the sight of the magic you have created.
Prizes:
Winner: Becomes#United4Food Ambassador, Get Scholarship worth N250,000 and a Laptop.
1st Runner Up: Scholarship worth N150,000 and a Tablet.
2nd Runner up: Scholarship worth N100,000 and a Phone.
Eligibility:
You are an undergraduate in a Nigerian University
You have an established social media presence with an active following
You have an out-of-this world creative mind
You are passionate about food security
Apply Before: 1st October, 2017
How to Apply:
Step 1
Take a Photo, Design Graphics or upload a Video(Not more than 30 Sec) talking about one of the Themes.
– Put your mouth where your Food is: SpeakUp for Farmers
OR
– Right2Food na Right2LIFE: a Hungry Man na Angry Man
OR
– More Money to Farmers, More FOOD on the TABLE. Lets Walk the Talk.
Step 2.
Upload on your social media platform using #United4Food.
Step 3
Submit your details u4f.hedang.org
Step 4.
Make your creative go viral
Apply Now Official Link
RECOMMENDED: Check Here for More Scholarships and Opportunities.