List of Courses Offered by Dominion University Ibadan
Dominion University Courses – See the list of degree courses offered by the Dominion University, Ibadan, Oyo State.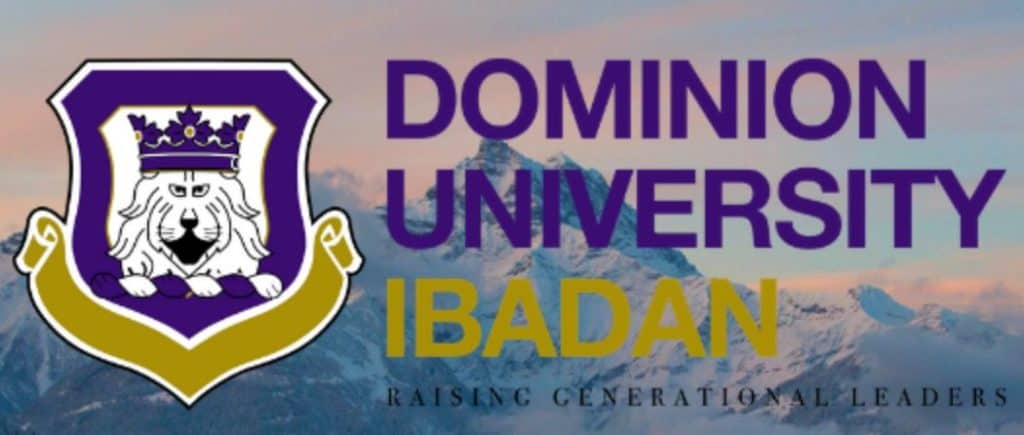 Dominion University is one of the private universities in Nigeria that offers diverse undergraduate programmes. The university is located in Ibadan, Oyo State.
Dominion University is a duly-licensed private faith-based University established by Victory International Church, Ibadan. It is located at Km 24, Ibadan-Lagos Expressway, Ibadan, Oyo State, Nigeria.
Below is the list of high-quality courses on offer at the Dominion University.
Dominion University Courses
FACULTY OF ARTS, SOCIAL AND MANAGEMENT SCIENCES
B.Sc. Accounting
B.Sc. Economics
B.Sc. Business Administration
B.Sc. Criminology and Security Studies
B.Sc. Industrial Relations and Personnel Management
B.Sc. Actuarial Science
B.Sc. Mass Communication
FACULTY OF COMPUTING AND APPLIED SCIENCES
B.Sc. Cyber Security
B.Sc. Computer Science
B.Sc. Biochemistry
B.Sc. Biotechnology
B.Sc. Microbiology
B.Sc. Software Engineering
B.Sc. Physics with Electronics
B.Sc. Industrial Chemistry
SEE THIS ›› How to Apply for Dominion University Undergraduate Admission.
Also Check:
Use the Drop Down Below to View Courses offered by other accreditted Nigerian Universities
If you think this post can be helpful to somebody else, please share it using the buttons below!
Tagged with : www.dominionuniversity.edu.ng | Dominion University Ibadan