[Pix] - Fire Guts Federal Poly Ado School Building
---
Last Updated on
---
A midnight inferno on Friday gutted the School of Engineer­ing complex of the Federal Polytechnic, Ado-Ekiti, causing destruction of property worth several millions of naira. 
Confirming the incident, the Deputy Registrar, Information and Protocol of the Polytechnic, Mr. Adeyemi Adejolu, said the fire incident surged from the school and razed down the multimillion naira building.
Adejolu said: "The School of Engineering office complex of the Federal Polytechnic, Ado-Ekiti was on Friday night gutted by fire.
The ravaging fire which was first noticed at about 11 pm completely raised the office complex housing the Office of the Dean of the School of Engineering and other adjourning offices including those of the Departmental Heads of Mechanical, Civil, Electrical/ Electronics and Agricultural Engineering and a large classroom."
Adejolu added that it took the combined efforts of the men of the Ekiti State Fire Service, the Polytechnic Fire Service team, security officials and students who took risks to prevent the fire from spreading to other facilities in the school.
Lamenting the tragic inci­dent, the Rector of the poly­technic, Dr. Taiwo Akande, said the loss in­curred by the polytechnic was colossal and appealed to the Ekiti State Government, the National Emergency Man­agement Agency (NEMA), the Tertiary Education Trust Fund (TETFUND), and other arms of the Federal Govern­ment to come to the aid of the Polytechnic in mitigating the loss.
See more shot of the building: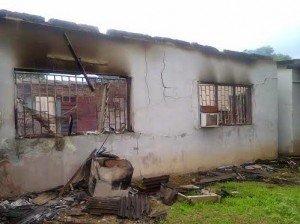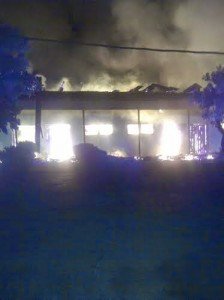 MSG  Team
TAGGED: fedpolyado.edu.ng | Federal Polytechnic Ado-Ekiti : ADOPOLY, www.fedpolyado.org