FUOYE Pre-Degree Admission Form 2023/2024
FUOYE's Pre-Degree Programme Admission: Comprehensive Guide for the 2023/2024 Academic Session.
Federal University Oye-Ekiti (FUOYE) is accepting applications for its pre-degree programme for 2023/2024. This nine-month course prepares candidates for various degrees, including Medicine, Law, and Engineering. Eligibility requires specific SSCE/NECO credits. Registration fee is N20,000. Application is exclusively online. Contact the Directorate for queries.
---
Updated on by Olusegun Fapohunda
---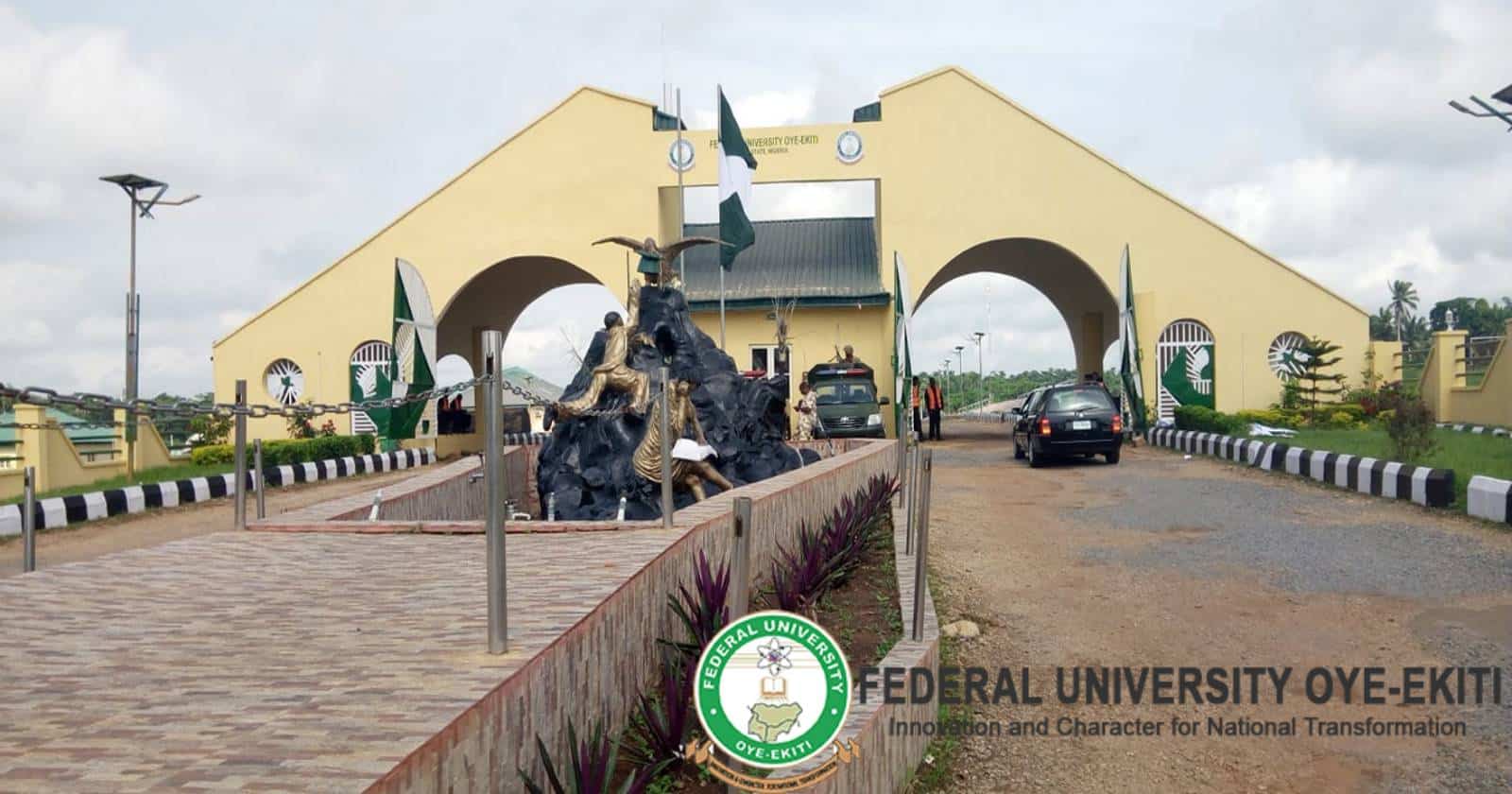 In a bid to advance education and provide students with robust preparatory studies, the Federal University Oye-Ekiti (FUOYE) has made available its application forms for admission into the pre-degree programme for the 2023/2024 academic year. With a duration spanning two contact periods within nine months, this programme offers prospective students a solid foundation for diverse academic disciplines.
| | |
| --- | --- |
| 🎓 FUOYE Pre-Degree | Application for 2023/2024 now open. |
| 📆 Programme Duration | Two contact periods within nine months. |
| 📚 Courses Offered | Medicine, Soil Science, Pharmacy, Mass Comm., Theater Arts, Law, Nursing, etc. (+61 more). |
| 📜 Eligibility | 5 Credits in SSCE/NECO, specifics for English, Maths, Literature. Deficiencies may be rectified |
| 📚 Subject Combos | Specific subject combinations needed. (Check images for details). |
| 💰 Registration Fee | N20, 000.00, excluding bank charges. |
| 🌐 Apply Online | FUOYE Pre-Degree Portal – portal.predegree.fuoye.edu.ng |
| 📞 Enquiries | DIRECTORATE OF PRE-DEGREE, FUOYE: 07030547750, 07062321039. |
Programme Overview
The Federal University Oye-Ekiti is opening its doors to aspiring candidates, inviting applications for its distinguished pre-degree programme slated for the 2023/2024 academic term. The curriculum is tailored to equip candidates for admission into a plethora of courses, including:
Medicine
Soil Science
Hotel and Tourism Management
Pharmacy
Mass Communication
Animal Production and Health
Theatre and Media Arts
Food Science Technology
Law
Accountancy
Architecture
Computer Science
Computer Engineering
Nursing
Mechatronics
Microbiology
…amongst a wide array of 61 other intriguing courses.
Duration
Prospective students should note that the pre-degree programme extends over two contact periods, all encapsulated within nine calendar months.
Eligibility Criteria
To be considered eligible for the FUOYE pre-degree programme:
Candidates should have a minimum of 5 Credits in SSCE/NECO. This should be obtained in no more than two sittings.
Compulsory subjects include English Language (mandatory for all courses) and Mathematics (essential for Science-based, Management Science-based, and Social Science-based courses). Literature-in-English is a requisite for Arts.
Candidates with subject deficiencies might still apply. However, it's imperative that such deficiencies are addressed before the pre-degree session concludes.
Subject Combinations
Prospective students are advised to consult the provided images for suitable subject combinations. These combinations satisfy the criteria for admission into all degree programmes at the Federal University Oye-Ekiti. At O'Level, credit passes in both English Language and Mathematics are non-negotiable, along with three other pertinent subjects.
[Click on the image for better view]
Application Procedure
Registration Fee: Each aspirant should budget for a registration fee of Twenty Thousand Naira (N20, 000.00), bank charges exclusive.
Application Portal: To initiate the application process, visit FUOYE's official pre-degree portal.
Disclaimer: It's paramount to note that the university hasn't sanctioned any individual or agency to vend application forms on its behalf. All applications should be made directly on the university's online portal.
Need Assistance?
For any enquiries or additional information, candidates can reach out to:
THE DIRECTORATE OF PRE-DEGREE, FUOYE, ITAPA-EKITI. Contact numbers: 07030547750, 07062321039.
Embarking on the pre-degree programme at FUOYE is a strategic step towards academic excellence. Ensure you follow the outlined guidelines for a seamless application process. Best wishes!