FUPRE Matriculates 421, VC Laments Varsity's Obscurity
---
Last Updated on
---
FUPRE Matriculates 421, VC Laments Varsity's Obscurity: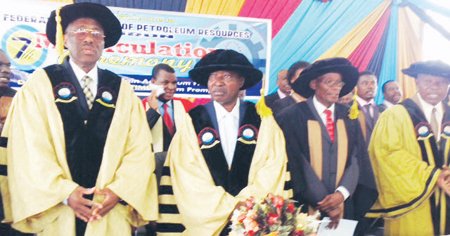 Being the unusual one among many comes with some level of unsought attention, which  bestows a garb of celebrity on such an 'uncommon one'. For instance, there had been several senior lawyers invested with the silk gown of Senior Advocates of Nigeria (SAN) before the first woman SAN, Mrs Olufolake Solanke, broke the jinx in 1981. The feat transformed the image of the first 'Lady Silk' from just a senior advocate to something of a celebrity.
It is natural for the world to notice  the uncommon one, to find out what stands it out and why it exists; and, most times, to tap into and exploit what makes it unusual. This is the sort of life expected of the only university for petroleum studies in Africa – the Federal University of Petroleum Resources (FUPRE), Effurun. But, sadly, it is not so.
Its Vice Chancellor, Prof John Ovwata Etu-Efetor, who disclosed this at the seventh matriculation of FUPRE, said not many outside Nigeria know of its existence, despite being one of the five petroleum universities world-wide.
Etu-Efetor, who welcomed the 421 freshmen, said the institution only exists on paper at the Federal Ministry of Education, adding that he felt sad to realise that some of his friends and associates outside Nigeria had not heard about it.
"FUPRE exists only on paper in the Federal Ministry of Education. My friends in India don't know FUPRE and this is the only petroleum varsity in Africa. Even in Nigeria, majority do not know whether FUPRE exists. We are ready to change the story", he said.
He, however, said during his tenure, the action plan would aim at putting the institution on the global map through cooperation with local and international partners, citing Exxon Mobil's readiness to build a Petroleum Engineering/Geosciences Department in the school.
He charged the new students to work hard to justify their admission, reminding them that matriculating is easier that graduating and that they would have to be of good behaviour through their years or they would be shown the way out.
"I will therefore admonish you to do your bits as committed students. You must avoid the pitfalls that are often attendant in the environment you now find yourself. Such pitfalls include examination malpractice, cultism, indiscipline, non-committal to your studies and sexual abuse, which of course goes with a price of either unwanted pregnancy or viral diseases, including HIV/AIDS," he said. (The Nation)