Group Urges LASG, LSHA to Reverse LASU Fee Hike: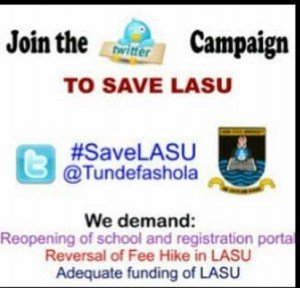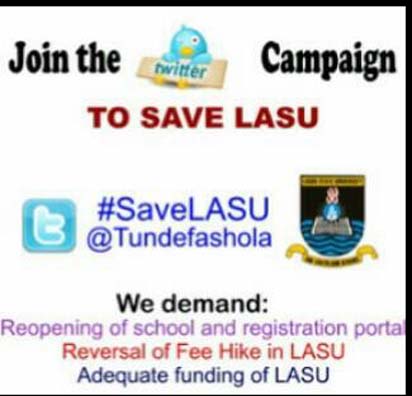 An NGO, Education Rights Campaign, on Tuesday urged the Lagos State Government and the Lagos State House of Assembly to reverse the hike in fees at the Lagos State University (LASU), Ojo.
The News Agency of Nigeria (NAN) reports that the students were paying N25, 000 before the recent hike pushed it upwards to N250, 000 per annum.
The group made the plea in a six-point communique, jointly signed by the group's Coordinator, Mr Hassan Soweto, and Mr Sulaimon Adeyemi, Chairman, Save LASU Campaign Committee in Lagos.
Soweto also called for the immediate re-opening of the campus for students to register and write their examinations.
He also urged the state government to increase the funding and to ensure the democratic management of the institution.
Soweto advised the government to carry out the repairs of property allegedly vandalised during the protest, with proceeds of the caution fee, paid by the students.
"We say no to victimisation of any student of the institution; payment of reparation and written and publicised apology letters from the university management and the Lagos State government, to the students.
"We begin active mobilisation of all LASU students, parents and members of the public to partner with civil society organisations, the university's staff unions and trade unions, to redress the injustice contained in the resolutions of the Lagos State House of Assembly,'' he said.
According to the communiqué, the causes of the protests of Jan. 22 and Jan. 23, was the inability of no fewer than 1,292 students to register, and the outrageous fee hike by the government.
The group said that the fee hike, which came into effect in 2011, was anti-poor, and had not led to any noticeable improvement in facilities and teaching infrastructure in the institution.
"Many departments and programmes are now facing possible rationalization and closure, because of the few number of students applying for them,… as a result of high fees.
"The sharp decline in student enrollment has also seriously threatened the jobs of both academic and non-academic staff in the university.
"Without reversing the fees, there is no guarantee that this same crisis or something far higher than this will not occur in future,… ,'' he said.
NAN reports that the authorities of the institution had, on Jan. 24, ordered the indefinite closure of LASU, following a violent protest by students, over the earlier-mentioned reasons. (NAN)