JABU JUPEB Admission Form for 2023/2024 Session
Joseph Ayo Babalola University (JABU) Opens Admissions for JUPEB Programme 2023/2024: All You Need to Know.
Joseph Ayo Babalola University (JABU) announces its JUPEB Programme admission for the 2023/2024 academic session. This program offers eligible candidates a pathway for Direct Entry into JABU and other affiliated institutions worldwide. Candidates require at least 5 credits in relevant subjects. The curriculum spans one academic session and encompasses diverse subject combinations across several disciplines. Interested applicants can apply online via the JABU portal, complete their bio-data, and await further instructions from the admissions office. For queries, candidates can contact the JUPEB Coordinator or visit the JUPEB office at the JABU campus.
---
Updated on by Olusegun Fapohunda
---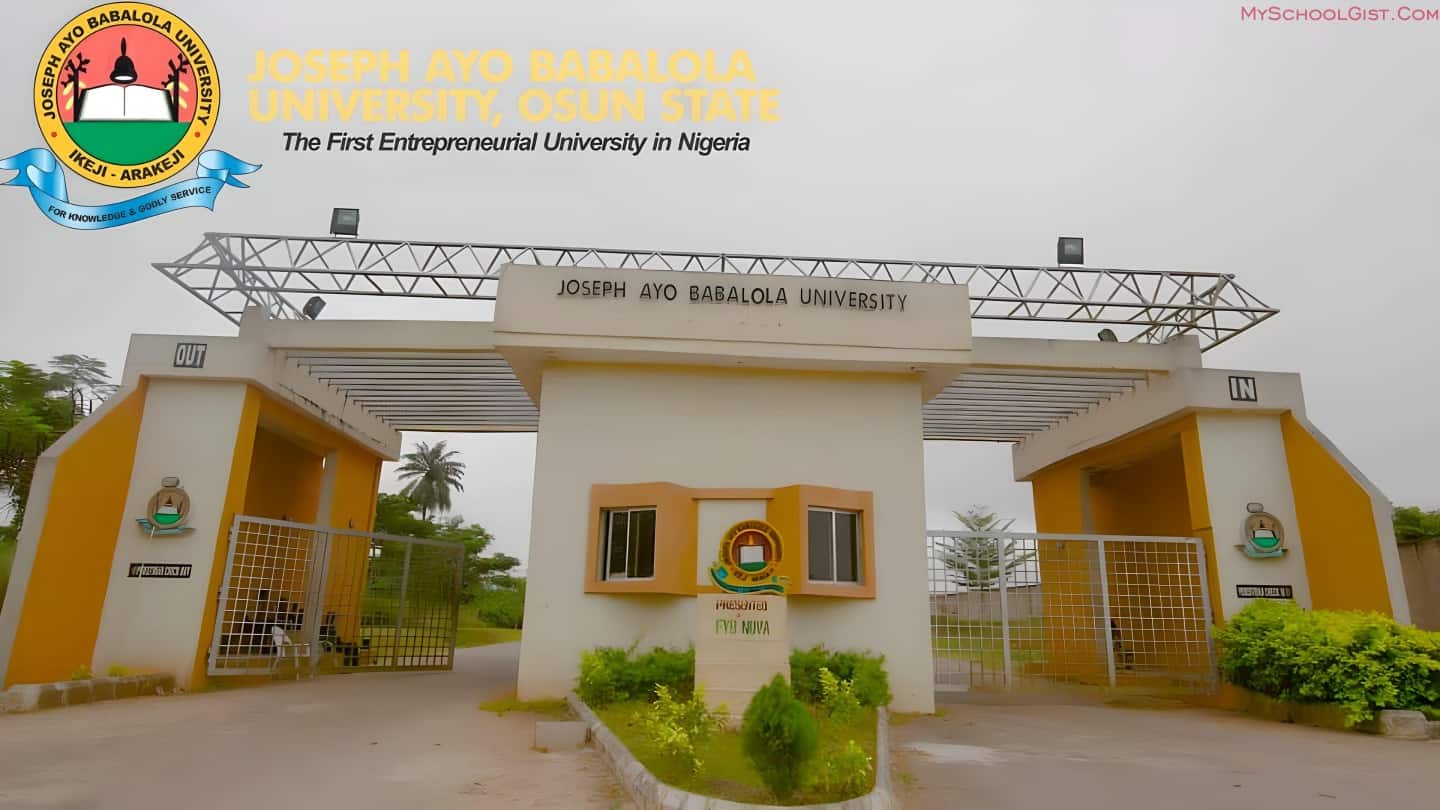 Joseph Ayo Babalola University, widely known as JABU, in collaboration with the Joint Universities Preliminary Examinations Board (JUPEB), is pleased to announce that the admission forms for the 2023/2024 academic session are now available.
Candidates who possess the requisite qualifications are heartily invited to seek admission into the esteemed JUPEB Programme for the 2023/2024 academic year. Successful completion of this programme paves the way for the award of the JUPEB certificate. Such an accolade grants candidates a seamless transition into Direct Entry Admissions not only at Joseph Ayo Babalola University situated in Ikeji-Arakeji, Osun state, but also in a plethora of other JUPEB-affiliated universities spread across Nigeria and the global stage.
| | |
| --- | --- |
| 📜 Admission Out | JABU JUPEB Programme 2023/2024 admission form available. |
| 🎯 Programme Aim | JUPEB certificate allows Direct Entry to JABU & other affiliated universities globally. |
| 📚 Eligibility | 5 credits in relevant subjects, including English. |
| 🕰 Duration | One academic session (two semesters). |
| 📖 Subject Combos | Varies across Arts, Social Sciences, Management Sciences, Sciences. E.g., HLCRS, GEM, BAM, PCM. |
| 🌐 Apply Online | JABU Portal – portal.jabu.edu.ng |
| 📌 Application Steps | Create student account, activate via email, log in, complete bio-data, and upload JPEG documents. |
| 📞 Enquiries | Contact JUPEB Coordinator or visit the JUPEB office at JABU. |
JABU JUPEB Programme: Eligibility & Duration
Eligibility: Prospective candidates should have a minimum of 5 credits from a maximum of two sittings in at least 5 subjects pertinent to their desired university course. It's imperative that this includes the English Language.
Duration: Candidates should be prepared to embark on an academic journey spanning a minimum of one academic session, which equates to two semesters.
JABU JUPEB Subject Combinations
Arts:
History/Literature/Christian Religious Studies (HLCRS)
Economics/History/Literature in English (EHL)
History/Igbo/CRS (HICRS)
Igbo/Literature/CRS (ILCRS)
History/Igbo/French (HIF)
Social Sciences:
Government/Economics/Mathematics (GEM)
Government/ Economics /Geography (GEG)
Literature/ Economics /Government (LEG)
Biology/Economics/ Government (BEG)
Government/Literature in English/Christian Religious Studies (GLCRS)
Biology/Government/CRS (BGCRS)
Management Sciences:
Business Studies /Accounting/Mathematics (BAM)
Mathematics/Accounting/Geography (MAG)
Mathematics / Economics / Business Studies (MEB)
Sciences:
Agricultural Science/Biology/Chemistry (ABC)
Physics/Chemistry/Mathematics (PCM)
Physics/Chemistry/Biology (PCB)
How to Secure Your Place at JABU JUPEB
Begin Your Application: Navigate to the application portal.
Create a Student Account: Fill in the requisite personal details and click the "Create Account" button. A valid email address is essential for account activation.
Activate Your Account: Inspect your email inbox and activate your student account by clicking the link provided.
Login and Complete Your Profile: Use your student details to log into the e-portal, then fill in your bio data and upload the necessary documents. Remember, all documents should be in JPEG format.
Await Further Instructions: Keep an eye on your email for communications from the admissions officer. They'll provide further information, especially concerning the screening date.
Need Assistance?
Should you have any enquiries or need assistance with your application, feel free to contact the JUPEB Coordinator on 08023026146 or 07032307051. Alternatively, candidates can visit the JUPEB/non-university affiliations office located at the College of Environmental Studies Building within Joseph Ayo Babalola University, Ikeji Arakeji.
Pursue excellence. Choose JABU JUPEB Programme.