Federal Polytechnic Nekede Owerri (FPNO) Notice to Students without JAMB Admission Letters | ND Full-Time and Part-Time
Federal Polytechnic Nekede Owerri (FPNO) notice to all students admitted between 2017 and 2020 academic session into the National Diploma (ND) regular and part-time programmes without JAMB admission letters.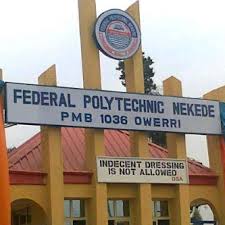 All students admitted into National Diploma (ND) Regular Programme who do not have JAMB admission letter and all National Diploma (ND) Part-time (Evening & Weekend) Programme students admitted between 2017 & 2020 Academic Session are to submit the following information on the Federal Polytechnic Website, using the link below
Name
Department
JAMB Registration Number
Year of ND Admission
Students that have already submitted the above information to the Deputy Registrars in their respective schools should re-submit the information online, while those who had already submitted online should not submit it again to avoid duplication.
The required information MUST be submitted online before the close of work on Friday 15th October 2021.
Any student who fails to submit the above information has himself or herself to blame
Share This Post

: If you think this post can be helpful to somebody else, please share it using the buttons below!
Follow

Us

More Posts From ›› www.fpno.edu.ng | Federal Polytechnic Nekede : NEKEDEPOLY