Educationists Blame Poor WAEC Result on Teachers Deficiency
---
Last Updated on
---
Educationists blame poor WAEC result on deficiency of teachers in core subjects. Recruiting more teachers, plus adequate classrooms and infrastructure will curb the menace of mass failure.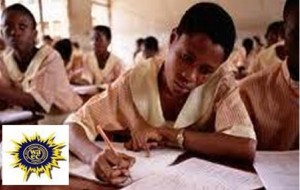 In reaction to the recent mass failure of candidates in the West African Senior School Certificate Examination (WASSCE), in which 70% were said to have failed, the president, American University of Nigeria (AUN), Prof Margee Ensign has said that rather than apportion blames, the root of the problem should be tackled.
Prof Ensign noted that the deficiency of teachers, especially in core subjects, must be properly addressed, as research and statistics had proved that the number of teachers the country had at present cannot address the issue of mass failure.
Ensign, who made this call yesterday in Abuja, stated that Nigeria, as a fast growing country, must invest in the training of teachers as, already, there is a population explosion which has led to 11 million out-of-school children, plus inadequate classrooms and infrastructure.
She said the training of teachers must be done consistently as "200,000 additional teachers are needed this year and, by next year, an additional 500,000 will be needed to curb the menace of mass failure and the 11 million out- of-school children must be sent to school and not traditional schools."
"A country cannot move forward without education for girls and women as this will reduce child mortality, as the number of children that families can have will come naturally, the women will be able to generate their own income."
Similarly, she advised that for maximum improvement which can be achieved in two years time, "every child should be provided with a tablet for learning" and that this should not be seen as luxury but a thing of necessity.
Why Students Fail WAEC   – Expert
A renowned educationist, Dr. Irene Osemeka, also lent her voice to the ongoing debate, saying there has been a steady decline in the quality of Nigerian students as a result of their connection to Information Communication Technology (ICT).
She said, "Of course the poor quality of our students manifest in many ways. The commonest is the poor grammatical expression in the use of tenses."
Educationist Laments Mass Failure
Another educationist, Dr Ibrahim Saka Ominiwe, has lamented the poor results of the West African Senior School Certificate Examination (WASSCE), warning that the trend will be worse unless government does the right thing to salvage the sector.
Ominiwe who is the president, Education Legacy College, while speaking at the 9th graduation ceremony in Ibadan yesterday, said it was unfortunate that government had not deemed it fit to appointment capable hands to manage the sector, which he considered as the bedrock of the nation's growth and development.
(Leadership)