TASCE Post UTME Form (NCE Program) 2023/2024
Tai Solarin College of Education (TASCE) Post UTME Form for 2023/2024 Academic Session.
Tai Solarin College of Education (TASCE) announces the Post UTME Admission for its 2023/2024 NCE Programmes. The institution offers 68 diverse courses. Eligibility criteria include specific educational certificates like NECO, WASSCE, and more. Candidates can apply online with a fee of #5,000. The screening date will be communicated later.
---
Updated on by Olusegun Fapohunda
---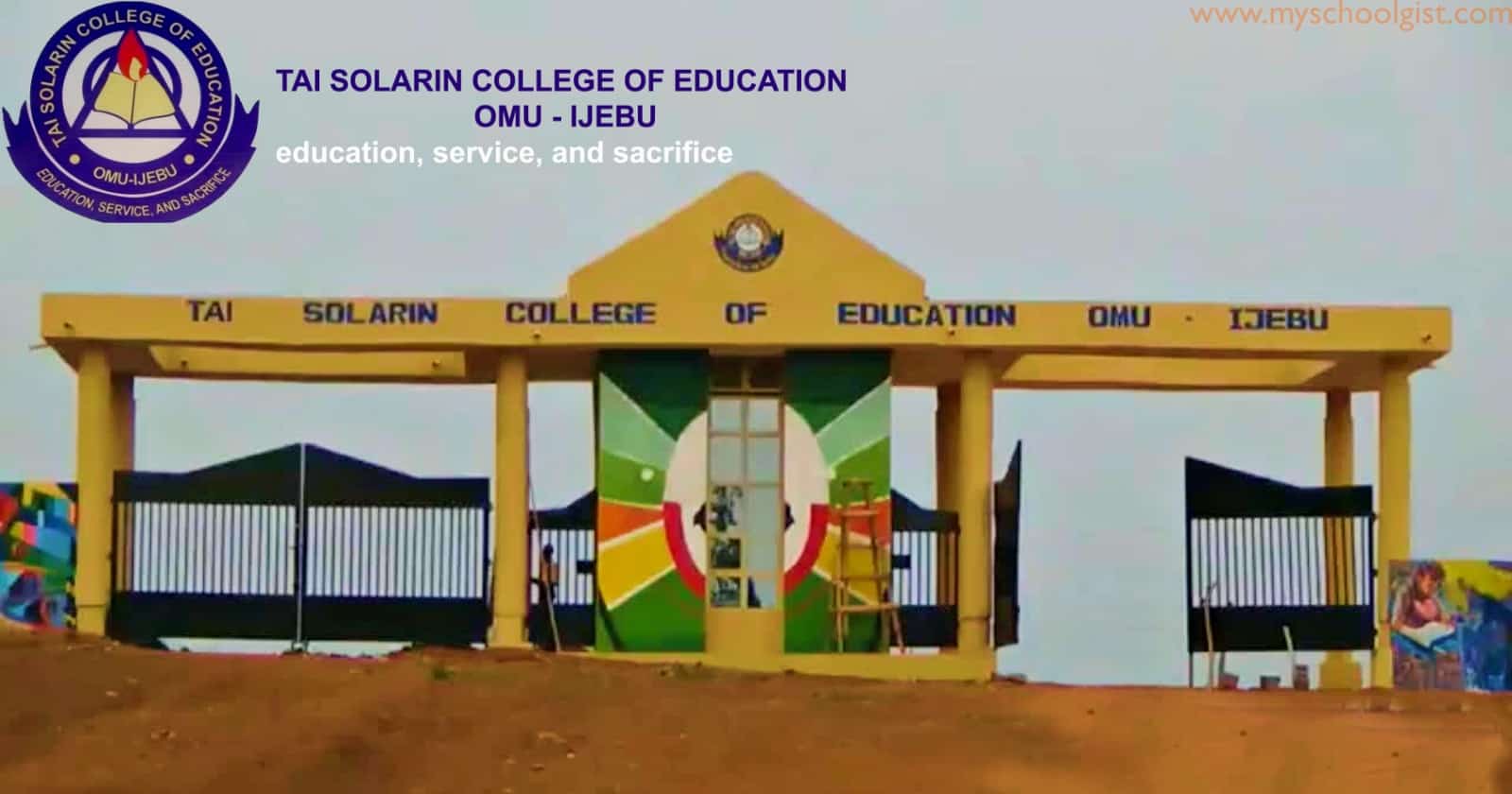 Heads up, academic enthusiasts! Tai Solarin College of Education (TASCE) is now welcoming applications for its 3-year Full-Time NCE Programmes for the 2023/2024 academic year. An incredible chance to embark on a transformative educational journey, so let's dive in!
| | |
| --- | --- |
| 🏫 Institution | Tai Solarin College of Education (TASCE) |
| 📢 Announcement | Post UTME Admission 2023/2024 |
| 📚 NCE Courses | 68 courses including Political Science combinations, Computer Science, Biology, etc. |
| 📜 Eligibility | NECO/WASSCE/GCE/TC II/NABTEB/Arabic & Islamic Studies Certificates with specific criteria |
| 📌 Application Link | my.tasce.edu.ng/admission |
| 💰 Fee | Five thousand naira (#5,000) via Master card or VISA |
| 📧 Activation | Email link sent post-registration; account activation essential |
| 📅 Screening Date | TBA; 8.am at TASCE Admissions Office |
Choose Your Academic Path: NCE Courses on Offer
Tai Solarin College of Education prides itself on offering a diverse range of courses. Here are the available choices:
Political Science Combinations:
Political Science/Economics
Political Science/Islamic Studies
Political Science/Christian Religious Studies
Political Science/History
Political Science/Social Studies
Economics Combinations:
Economics/Mathematics
Economics/Social Studies
Economics/Geography
History Combinations:
History/Christian Religious Studies
History/Social Studies
History/Islamic Studies
History/Political Science
Social Studies Combinations:
CRS/Social Studies
Social Studies/Christian Religious Studies
Social Studies/Islamic Studies
Geography Combinations:
Geography/Mathematics
Geography/Social Studies
Geography/History
Geography/Political Science
Geography/Physics
Computer Science Combinations:
Computer Science/Geography
Computer Science/Physics
Computer Science/Chemistry
Computer Science/Mathematics
Computer Science/Biology
Computer Science/Economics
Mathematics Combinations:
Mathematics/Biology
Mathematics/Physics
Mathematics/Chemistry
Mathematics/Integrated Science
Biology Combinations:
Biology/Integrated Science
Biology/Chemistry
Biology/Geography
Biology/Physics
Language & Social Studies Combinations:
English/Social Studies
French/DM
French/Yoruba
French/Christian Religious Studies
French/History
French/Social Studies
Yoruba Language/History
Yoruba Language/Christian Religious Studies
Yoruba Language/French
Yoruba Language/Islamic Studies
English (Double Major)
English/Geography
English/Yoruba
English/History
English/Christian Religious studies
English/French
Arabic/Islamic Studies
Education & Applied Studies:
Primary Education (PED) (Double Major)
Early Childhood and Care Education (Double Major)
Fine & Applied Arts (Double Major)
Home Economic (Double Major)
Agricultural Science (Double Major)
Physical & Health Education (Double Major)
Business Education (Double Major) Options:
Business Studies
Accounting
Secretariat
Technical Education (Double Major) Options:
Automobile Technology
Building Technology
Electrical/ Electronic Technology
Metalwork Technology
Woodwork Technology
Who Can Apply? The Admission Checklist
General Admission Requirements
To be part of this esteemed institution, ensure you meet the following criteria:
(a) Armed with NECO/WASSCE/GCE'O'LEVEL? You need five (5) credit passes, inclusive of English Language and Mathematics. Three of these credits should align with your chosen course.
(b) Got the Grade II Teacher's Certificate (TC II)? Ensure you have credit or merit passes in five subjects, including the ever-important English and Maths. Again, three should be course-relevant.
(c) For the hands-on individuals leaning towards Vocational and Technical Education, your RSA, City and Guilds Intermediate Certificate, or Federal Craft Training Certificate (FCTC) will do – as long as you have credit/merit passes in at least five subjects.
(d) Holding a NABTEB Certificate? Five (5) credit passes in the right subjects are your ticket in.
(e) For those with a background in Arabic and Islamic Studies, a Senior or Higher Certificate with 5 Credit/Merit passes, including English, will suffice.
Quick Tip:
For Social Studies enthusiasts, subjects like Government, Economics, History, Commerce, and Islamic Studies are your gateways. And here's a gem: a credit in Government can swap out for History in any History combo course!
Get Started: Application Guide
Begin: Head to TASCE's official portal and part with a nominal fee of five thousand naira (#5,000) – payable via Mastercard or VISA. Keep that receipt handy!
Step into the Portal: Click "Click Here to Apply". As you navigate, ensure your email address is correct; it's where your activation link will land. Returning? Log in here.
Activate: Keep an eagle eye on your email (and perhaps that sneaky spam folder). Spot the link? That's your green light back to the Admission Portal.
Payment First: Once settled in, 'Pay Application Fee' is your next stop. Ensure this step precedes form-filling.
Receipt and Status: If you're met with payment approval, a quick trip to 'Payment History' lets you print your receipt. Otherwise, 'Check Status' will guide you.
Detail Time: With care, fill in the online form, upload the necessary documents (in PDF) and your passport photo. Double-check, then confidently click 'Submit'.
Print and Wait: After submitting, print your application form. Soon after, your screening slip with its date will be ready for print.
Screening Date Alert:
Mark your calendar! Though the exact date will be communicated later, the venue is set: Admissions Office at 8 am sharp.
Get ready to embark on a transformative academic journey with TASCE. Your future begins here. 🎓🌟
RECOMMENDED: List of Schools Whose Post UTME Forms are Out.