UNIMAID Students Panic Over Boko Haram Attack on Borno Villages
---
Last updated on
---
UNIMAID Students Panic Over Boko Haram Attack on Borno Villages: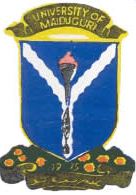 A nocturnal attack by Boko Haram gunmen on two villages on the outskirts of Maiduguri, Borno State, has caused tension and panic within the campus of University of Maiduguri as students feared the thunderous blasts and shooting could be an assault on the campus.
Panicked students said they had to stay awake till dawn.
A top officer at the Department of Security Service (DSS) who spoke to reporters off the record said "the shooting had nothing to do with the university", because the attack occurred in two villages situated about 12km away from the campus.
"What was heard as blast and the shooting had nothing to do with the University. There was an attack by these insurgents last night at Marimari and Gremari villages in Konduga local government area. The villages were attacked as we gathered because the villagers had recently nabbed and killed some of the Boko-Haram members; so they visited for revenge. Though luckily the villagers were able to escape, but the attackers burnt down the two villages.
"The shootings being heard in the university was a friendly firing from soldiers in Dalori Quarters which is just some 2km away from the university campus", he added.
But students in the campus said they were more terrified as most of them were forced to wake up by the sounds.
A student of the University, who identified herself as Halima Abdul, told reporters at the gate of the University that "we don't know from where the explosion and shooting occurred and we could not even run because it's dark and dangerous to do so. It happened around 2am; I was not asleep then".
Another student, said the Dean Students' Affairs of the varsity was in their hostel alongside some management staff to calm them down. But most of the students that had finished their exams said they cannot wait any longer to conclude their final year projects.
Details could not be sourced immediately to ascertain if there were casualties in the attacked villages. (Leadership)
Ace Your Exams: Join Our Online Classes For JAMB, WAEC, NECO & NABTEB Candidates