Ekiti State University, EKSU examination commencement date for the second semester, 2019/2020 academic session.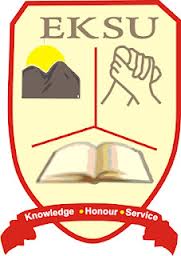 The management of the Ekiti State University (EKSU) has released the schedule for the second semester, 2019/2020 academic session examinations.
EKSU Examinations Schedule
The Senate of Ekiti State University, Ado Ekiti has postponed the second-semester examination for 2019/2020 earlier scheduled to start on, 12th July, 2021 by one week.
However, the postponement does not affect the ongoing Postgraduate Examinations.
This decision followed the various pleas from the Students' Union body and distinguished members of Senate that the examination be shifted by one week.
The Senate, at an emergency meeting held today, Sunday, 11th July, 2021 took the decision in the interest of stakeholders.
Arising from this development, the second semester 2019/2020 Examinations for regular students would now commence on Monday, 19th July, 2021.
Students are hereby advised to use the one week grace of the postponement to complete the payment of all prescribed fees as there would be no waiver for any defaulting students.
Moreover, students should use the opportunity to prepare better for their examinations. It should be emphasized that during the one week extension, there shall be no lectures, tests, seminars, etc.
EKSU Exam Permit Card Notice
In preparation for the Second semester 2019/2020 Examination, students are therefore being informed to note that it is compulsory for them to present their Examination Permit cards before they are allowed to write the examination.
In addition, all students must upload their recent passport photographs on the portal, which must appear on their Examination Permit cards so as to serve as means of identification for the examination.