See FUGashua IJMB Registration Procedure Here - 2014/15
---
---
Federal University Gashua, FUGASHUA IJMB registration procedure for the 2014/2015 academic session.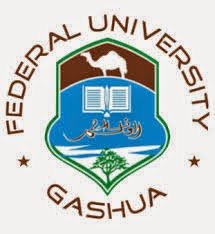 This is to inform all the students offered provisional admission into the Federal University, Gashua, IJMB programme that the authorities of the institution have released the registration procedure for the 2014/2015 academic session.
Screening and Registration exercise commencing on the 20th April, 2015 and ending on the 24th April, 2015. Please note that the Portal will be closed by mid night 24th April, 2015.
STEPS FOR REGISTRATION
STAGE 1: All students are expected to present a copy of their IJMB bank confirmation order for the collection of their respective Admission Letter in Room 1 if you have not done so already.
STAGE 2: After the collection of the Admission Letter or if you have collected already, then proceed to Room 2 for Academic Screening. At this point, you will be required to produce six (6) passport photographs and the Originals and four photocopies each of the following:
Original Admission Letter
JAMB Print out or Remedial Statement of Result (for those admitted through Remedial only).
WAEC/NECO/NABTEB Results
First School leaving Certificate
Birth Certificate/Declaration of Age
Local Government Indigene Certificate
Six standard coloured passport photographs
Thereafter, you are expected to fill a Registration Form in which you are to indicate your choice from one of the six (6) academic groups:- BS1, BS2, BS3, BA1, BA2 or BA3 based on your intended future career and the O-Level credits obtained. Subjects in each group are:
BS1: Biology, Chemistry and Physics
BS2: Chemistry, Mathematics, Physics
BS3: Biology, Chemistry, Mathematics
BA1: Economics, Geography, Government
BA2: Economics, Literature-in-English, Government
BA3: Economics, Sociology, Geography
Note: Use of English Language and Basic Mathematics are compulsory for those who do not have credit pass in O'level English and Mathematics.
Note: Make sure you are properly screened and Cleared before Payment of School Fees.
STAGE 3: PAYING SCHOOL FEES (Science – N73, 500.00 and Art – N70, 500.00 only).
After you have been cleared, visit; www.fugashua.edu.ng , under Current Students tab, click on Pay School Fees. Wait for the page to load. Read the instructions carefully and at the end of the page, click on Pay Fees Now. Again, wait for the page to load and Enter your Applicant ID (IJMB Form Number) from your online application form, and click on Get Fee Detail. The fees due for your Student category will be displayed. Download and Print a copy of the Payment Invoice and take it to any branch of First Bank.
Upon successful payment at the bank, you will be given a payment slip which contains a confirmation number. Return to the portal with this and follow the procedure below. Select the e-tranzact Pin Vending option and click on pay fees. This will take you to a page, enter the confirmation number and click on verify. After your payment has been verified, you will be required to print your school fees receipt and also a PIN will be automatically generated for you with which you will be required to use in Stage 4.
STAGE 4: Profile Update and Course Form Registration
Still on www.fugashua.edu.ng, select Portal Login under Current Students use the combination of your Applicant ID and the PIN obtained after your payment has been successfully verified and school fees receipt printed. Login and update your profile, also register all your required courses as the case may be. Print every other required form including your Student Information Form.
STAGE 5: After payment, you are to return to Room 1 with a copy of your Payment Slip/Bank Teller and collect your Registration Number, Students' Handbook and a Student Personal Record File which must be filled accordingly and returned immediately (within 24hrs).
Note:
Please, make sure you are properly screened before paying fees as there will be no refund after payment has been made. Make sure you keep your PIN as it will be required for your session long access to the Portal
For Support, visit IT Centre or email us at support@fugashua.edu.ng and all complains will be dealt with within an hour.
MSG Team.