Federal University Gashua (FUGASHUA) Resumption Notice to Staff
Federal University Gashua (FUGASHUA) Resumption Notice to Staff
Federal University Gashua (FUGASHUA) resumption notice to members of staff.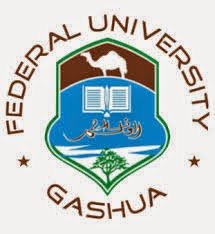 The management of the Federal University Gashua (FUGASHUA) has announced the resumption date for staff on CONTISS 13 and above and all academic staff.
FUGASHUA Staff Resumption Date
Following the receipt of a circular from the National Universities Commission (NUC) with reference No NUC/FCS/138/Vol.63/153 dated 6th January 2021 on the second wave of COVID-19 directing officers on CONTISS 11 and below to stay at home, I have been directed to write and inform you that the principal officers had, during their 15th regular meeting held on Wednesday 6th January 2021 deliberated on the issue and directed staff on CONTISS 13 and above and all academic staff to resume duty on Monday 18th January 2021 consistent with the directive of the presidential task force (PTF) team on COVID-19 .
On resumption, staff are to ensure strict compliance with the extant safety protocols and the Nigeria Centre for Diseases Control (NCDC) guidelines, including maintaining acne of physical distancing. Regular washing of hands, wearing a facemask and reducing the number of visitors, among others.
Signed
Danladi Inuwa
Principal assistant registrar (Establishment)
For: Ag Registrar
Share This Post: If you think this post can be helpful to somebody else, please share it using the buttons below!
More Posts From ›› www.fugashua.edu.ng | Federal University Gashua : FUGASHUA