2022 Joint Admissions and Matriculation Board (JAMB) Examination Slip Re-Printing Procedure
2022 Joint Admissions and Matriculation Board (JAMB) Examination Slip Re-Printing Procedure
The portal for the reprinting of the slip for the 2022 Joint Admissions and Matriculation Board (JAMB)  Unified Tertiary Matriculation Examination (UTME) has been activated. Applicants can now print their examination slips for their email inbox or via the JAMB website. See the procedure on how to print the JAMB slip below.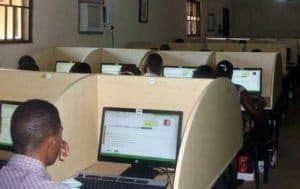 This is to inform all the candidates that registered for the 2022 Joint Admissions and Matriculation Board (JAMB) Unified Tertiary Matriculation Examination (UTME) that printing of the examination slip has commenced
The exam slip reflecting each candidate's exam schedule (i.e. date, time and venue) is now available for printing on the JAMB portal.
All candidates who registered for the 2022 Unified Tertiary Matriculation Examination (UTME) could start printing their 2022 UTME notification slips on Saturday, April 30 ahead of the exercise.
The 2022 Unified Tertiary Matriculation Examination (UTME) will commence on Saturday, 6th May 2022, nationwide. 
Candidates are advised to print their slips before the commencement of the JAMB Exam, in order to familiarize themselves with the examination schedules as no form of excuse for missing the examination will be entertained.
Want to excel at 2022 JAMB UTME? Get our JAMB CBT Practice Software.
How Print JAMB Exam Slip Showing Date & Time
Reprinting of JAMB registration slip is quite easy.  All you would be required to print your JAMB exam slip that reflects your examination schedule is your registration number. Follow the steps outlined below for the process:
STEP 1:

Go to the JAMB UTME e-slip printing page at https://efacility.jamb.gov.ng/PrintExaminationSlip

STEP 2:

 Supply your

JAMB Registration Number

or

Email address

or

Phone number

in the appropriate column.

STEP 3:

Finally, click on the '

Print Examination Slip

'  button to access your exam schedule.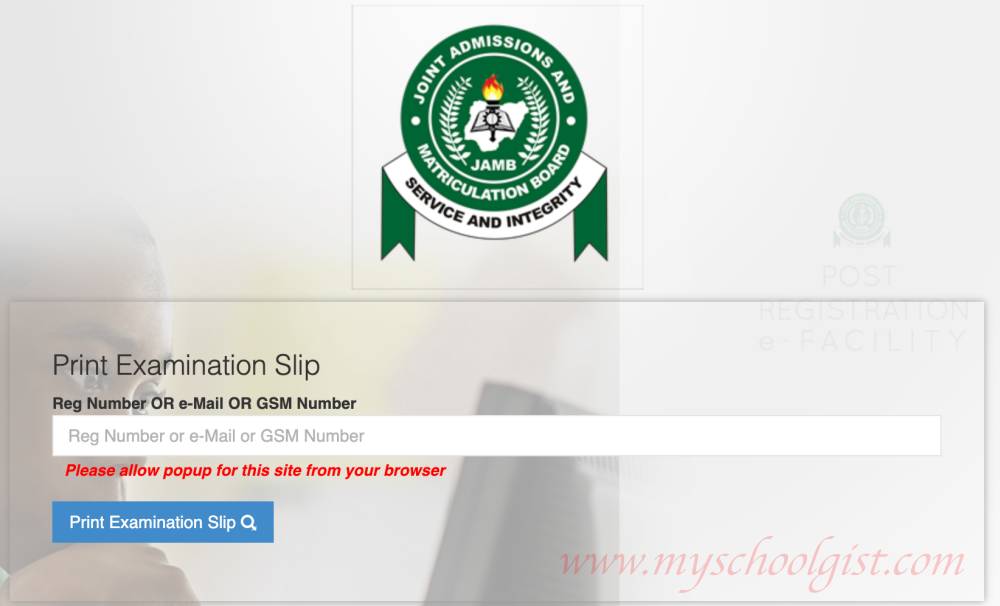 Note: Please allow a popup for the JAMB site (www.jamb.org.ng) from your browser.
NOTE:
DO NOT bring Wrist Watch, Mobile Phone, Electronic Device, Pen/Biro, Key Holder, ATM Card, Eraser, Bangles, Ring, Necklace to the Examination Centre. 
You are advised to keep a copy of this Slip for reference purposes.
Your Biometric (Thumbprints) Verification is COMPULSORY at the Examination Centre
You will be marked absent if you DO NOT sit for the exam as indicated above and will forfeit the RIGHT to sit for the Examination.
There will be No change of UTME Subject in the Examination Centre.
The Board shall apply the following COVID-19 Protocols among others:
There will be temperature check at the gate
There will be hand-washing/sanitiser before entrance into the exam centre
No face mask no entry to the exam centre
You must put on your face mask for the duration of the examination.
All candidates are advised to prepare ahead and stay close to their examination venues, if possible, they should pay a prior visit to their centres before the date of the examination.
Recommended Links: