COVID-19: UI Produces, Distributes 2000 Face Masks
---
Last Updated on
---
University of Ibadan (UI) has produced and distributed over 2,000 face masks to members of the university committee and neighbouring communities as part of the Institution's contribution to the fight against the pandemic.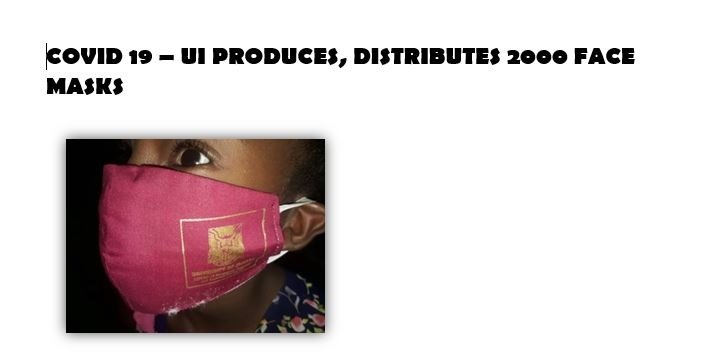 The University of Ibadan through its COVID-19 Response Committee produced and distributed over 2000 face masks to members of the university committee and neighbouring communities, Tuesday 28 April, 2020.
Speaking at the flag off of the distribution of the masks, the Deputy Vice Chancellor (Research, Innovation and Strategic Partnerships), Prof. Olanike K. Adeyemo said the university was aware of the huge number of people for whom buying a good face mask might be a difficult financial burden. These were the targeted beneficiaries of the UI donation.
Prof Adeyemo implored members of the University of Ibadan community to observe all the necessary rules for stemming the spread of the COVID-19 pandemic.
"As Nigerians we joke with everything, and maybe that is part of our coping strategies but please, COVID-19 is not a matter for jokes. We must observe social distancing, handwashing, hand sanitising and use of masks.
"We are a praying nation, and I have no doubts that praying is working for us. That is why our fatality and infection rates are much lower than what obtain elsewhere. However, we must add obedience and precaution to our prayers".
The production and distribution of the masks came about 14 hours after President Muhammadu Buhari made it mandatory for all Nigerians to wear face masks as a way of curtailing widely spreading COVID-19 infections. This followed four weeks of lockdown in Lagos and Ogun States, and in the Federal Capital Territory. While extending the lockdown by one week, the President called on institutions and organisations to intensify the fight against COVID-19. The University of Ibadan was among the first to heed that call.
Partnering with the University of Ibadan is the GIS Konsult which among others, developed an app to help monitor the distribution of the facemasks and other UI interventions. Through the app, further research would be made possible on the impact of the efforts of the University of Ibadan in curbing COVID-19.
Following the flag off, volunteers took batches of the masks to the junior staff quarters known as Abadina and Agbowo community for distribution.
About a month ago, the University of Ibadan set up a comprehensive committee to handle its response to COVID-19. Individuals experiencing symptoms are advised to call:
UI Health Services:
08077125099
09062974561
UCH Hotlines:
08131733982
08177557039
08131733694
Oyo State COVID-19 EOC hotlines:
08095394000
08095863000
© Information, Education & Communication Sub-Committee of the UI COVID-19 Response Committee
TAGGED: Coronavirus Disease (COVID-19), www.ui.edu.ng | University of Ibadan : UI