Updated Airtel USSD Codes 2023
Have you recently dialled the familiar *124# on Airtel, only to be redirected elsewhere? Could it be that the familiar USSD codes are undergoing a transformation in Nigeria? Indeed, they are. The Nigerian Communications Commission has initiated new standardised USSD codes for mobile networks, including Airtel. For all Airtel loyalists, this means acquainting themselves with a refreshed set of codes.
---
---
The digital realm is constantly evolving, and so are the tools we use to navigate it. For Airtel users in Nigeria, this couldn't be truer with the recent shift in Airtel USSD codes. This guide delves deep into these changes, providing clarity and ensuring you always stay connected.
📱 Why Update
Standardisation across Nigerian networks.
🔄 USSD Changes
Airtel USSD codes revamped for uniformity.
💰 Recharge Airtime
New code:

311

Voucher PIN #.
🔍 Check Balance
Updated balance check: *310#.
📞 Borrow Airtime
Dial *303# to borrow airtime.
🔗 Link NIN
Unchanged NIN linking code: *996#.
🚫 DND
Manage DND complaints: 2442.
📲 Port Number
Mobile number portability: 3232.
💡 Stay Updated
Keeping up with changes ensures smooth usage.
Why the Overhaul in Airtel USSD Codes?
The Nigerian telecommunications landscape has seen a significant move towards standardisation. This push, spearheaded by the Nigerian Communications Commission (NCC), aims to introduce uniform Unstructured Supplementary Service Data (USSD) codes across all mobile networks in Nigeria.
This decision has inevitably led to the reconfiguration of many USSD codes. If you've recently tried to purchase a data bundle or recharge your Airtel line using an old code, you may have found yourself being redirected to use a new one.
Navigating the New Airtel USSD Codes
As an Airtel user, it's paramount to update your knowledge of these codes to ensure uninterrupted access to services. Here are the revamped codes you should familiarise yourself with:
Recharging Airtel Airtime:

Use *311* Voucher PIN #

Checking Airtel Airtime Balance:

The updated code is *310#

Borrowing Airtel Airtime:

Dial *303#

Purchasing Airtel Data:

You'll now need to dial *312#

Sharing Airtel Data:

Use *321# for this function.

Checking Your Airtel Data Balance:

*323# is the new code to remember.

Accessing Airtel Value-added Services:

Simply dial *305#

Linking NIN to Your Airtel Line:

The code remains *996#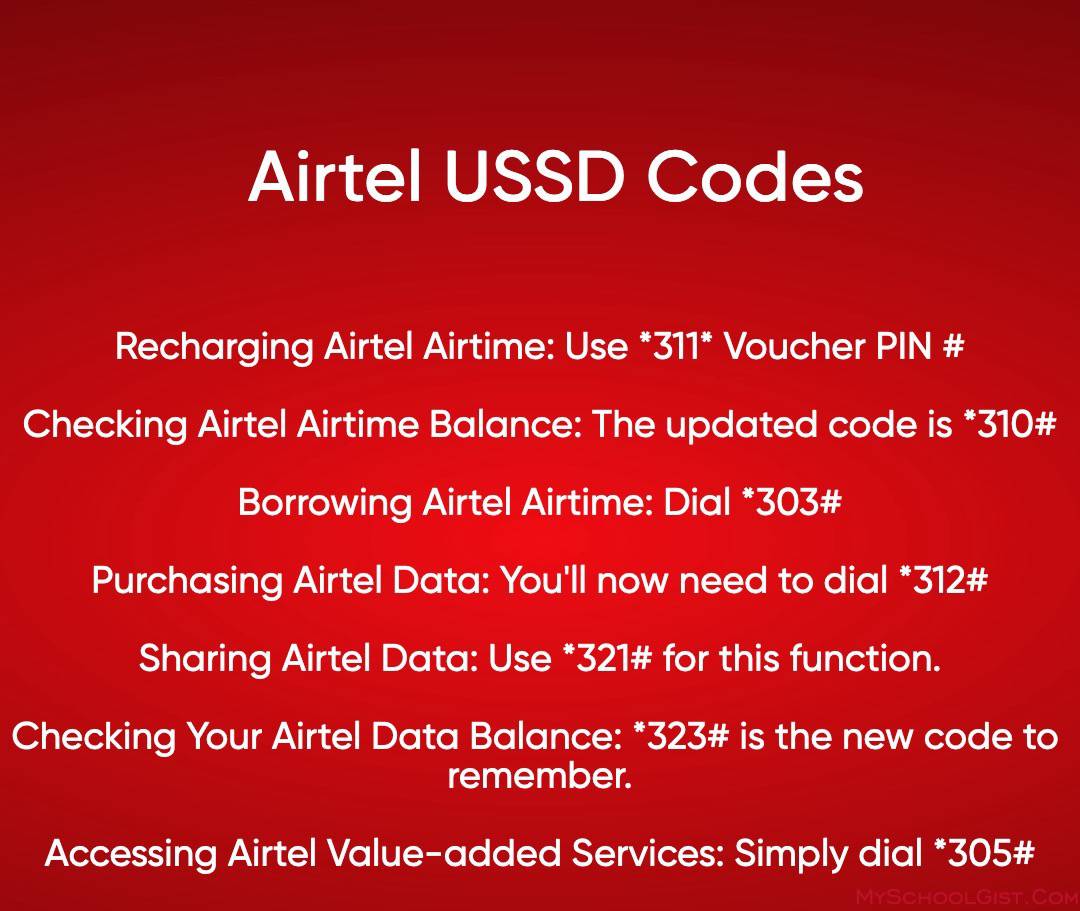 Consistent Airtel USSD Codes
Despite the broader changes, some USSD codes have remained the same, retaining their original functions. It's vital to know these consistent codes as they form the backbone of specific critical services:
SIM Registration or NIN-SIM Linkage Verification:

Continue using the code 996.

Managing Do-Not-Disturb (DND) Complaints:

2442 remains your tool against unsolicited messages.

Mobile Number Portability Services:

For this, you can still rely on 3232.
Conclusion
As telecommunications advance, these changes in Airtel USSD codes reflect a broader trend towards uniformity and ease of use. For users who heavily rely on their mobile devices, being updated is not just a convenience—it's a necessity.
Arming yourself with this knowledge ensures you remain connected, informed, and ahead of the curve. After all, in the fast-paced digital age, staying updated is paramount to success.