JAMB ePIN: Quickteller Prepares 2023 UTME Candidates with Free Tutorials
JAMB ePIN: Quickteller Prepares 2023 UTME Candidates with Free Tutorials.
If you purchase your JAMB ePin with Interswitch, you will be given access to free JAMB classes taught by qualified professionals.
---
---
---
As a prospective candidate for the 2023 Unified Tertiary Matriculation Examination (UTME), it is essential to have a seamless and stress-free experience in obtaining your JAMB ePIN to focus on preparing for the exam.
To help you achieve this, Quickteller – Leading consumer digital payments platform powered by Interswitch, offers a variety of Interswitch-enabled platforms for purchasing your ePIN, including Quickteller Mobile App/Web, Quickteller Paypoint (Agents), and Interswitch Webpay on JAMB's website.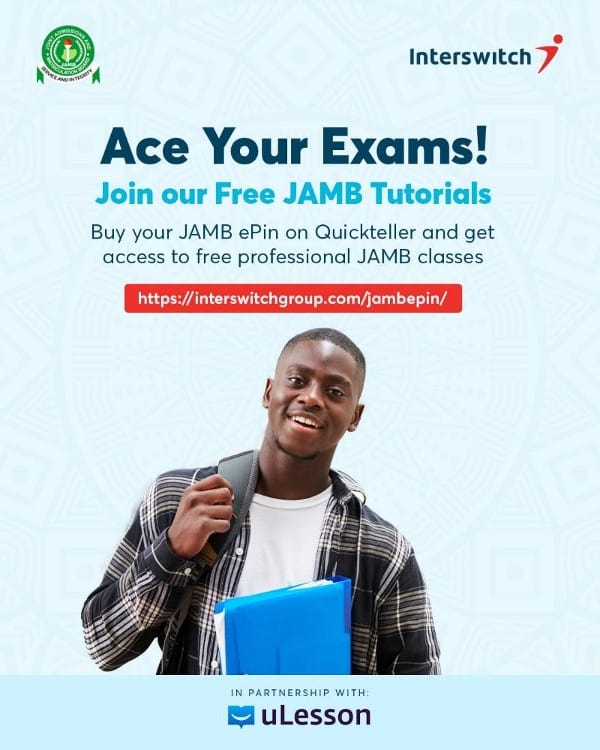 Not only does Quickteller make it easy for you to purchase your JAMB ePIN, but they also help you improve your chances of admission to your preferred university. Quickteller has partnered with uLesson, a leading online learning platform in Nigeria. This is to provide candidates with free tutorials in relevant subjects such as Mathematics, English, Physics, Chemistry, Biology, Literature-in-English, Economics, and Financial Accounting.
These extra classes will give you the edge you need to excel in the UTME exams and increase your chances of admission. The tutorials will be conducted virtually, giving you greater access to your subjects of interest and experienced teachers.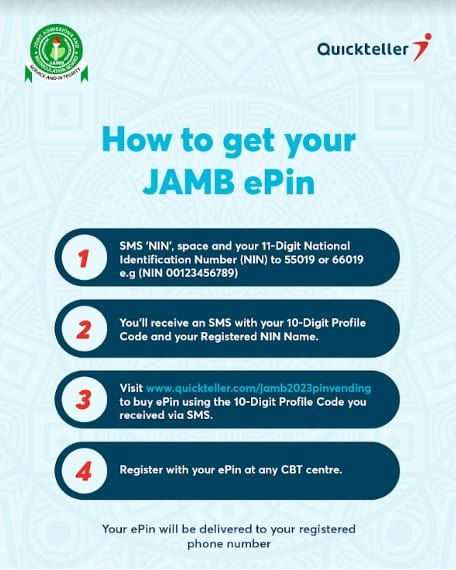 To purchase your JAMB ePIN on Quickteller or any Interswitch-enabled platform, the process is straightforward. Simply follow these steps:
Visit Quickteller, USSD, ATM, Mobile App, or Web
Select "JAMB ePIN" from the service options
Enter your personal and payment information
Confirm the details and make the payment
Receive your JAMB ePIN via SMS or email
By purchasing your JAMB ePIN through Quickteller, you will not only have a smooth and stress-free experience, but you will also receive free tutorials to help you prepare for the UTME exams. This is a fantastic opportunity to receive detailed learning and get access to rich educational resources that will aid UTME prospects in their exams.
Quickteller has also included a reward program for Quickteller Paypoint agents. These agents will receive competitive commission on every ePIN sold, extending the reward to agents scattered across the country.
Moreover, the tutorials offered by uLesson will provide you with an opportunity to exchange ideas, ask questions, and share your study experiences through the platform's discussion forums. This can be a great source of encouragement and motivation during the UTME preparation process.
As a 2023 UTME candidate, don't wait until the last minute to purchase your JAMB ePIN. Get it today and take advantage of Quickteller's partnership with uLesson to improve your chances of admission to your preferred university. Get started now and take the first step towards realizing your dream of obtaining a tertiary education in Nigeria.