Peaceland College of Education NCE Post UTME Form 2023/2024
Peaceland College of Education, Enugu NCE Post UTME Form for 2023/2024 Academic Session.
Peaceland College of Education in Enugu is offering admissions for its NCE programmes for 2023/2024. Entry requires a minimum of 4 SSCE credits and a qualifying JAMB score. The college provides a variety of courses spanning 5 departments. Application forms are available at a specific Enugu address. For further information, two contact numbers are provided.
---
Updated on by Olusegun Fapohunda
---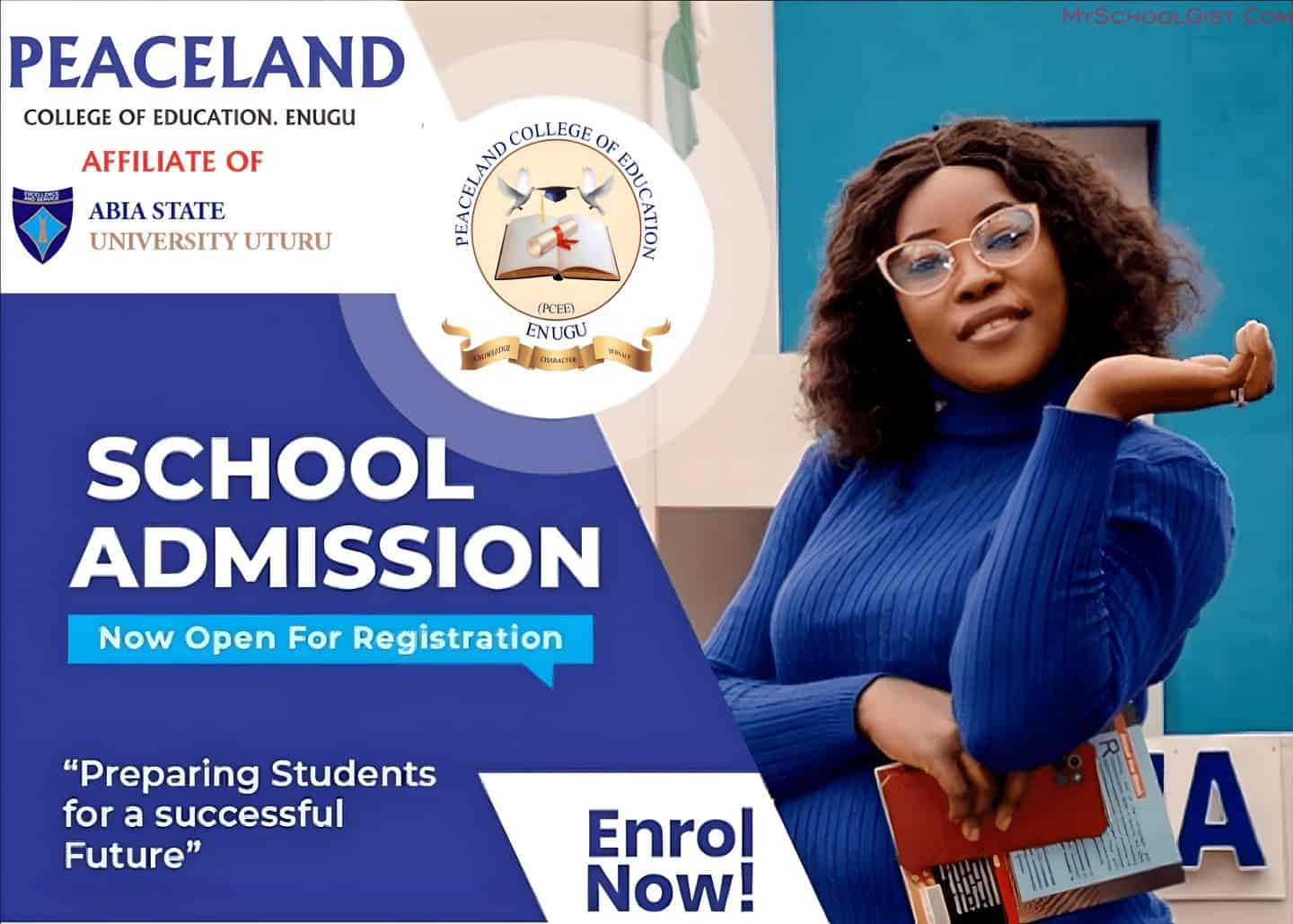 Eager to shape the future through education? Peaceland College of Education, nestled in the heart of Enugu, now welcomes aspiring educators to apply for its diverse range of National Certificate in Education (NCE) programmes for the 2023/2024 academic session. Dive in for the specifics!
| | |
| --- | --- |
| 🏛 Institution | Peaceland College of Education, Enugu |
| 📚 Programmes | NCE in various specialisations across 5 departments |
| 📝 Entry Requirement | 4 credits in SSCE (WAEC/NECO) + Acceptable JAMB score |
| 🎨 School of Arts | Courses include CRS/Economics, Economics/English, History/Economics & more |
| 🌐 School of Languages | Courses include English/CRS, English/French, Igbo/CRS & more |
| 🛠 Vocational School | Business, Accounting, and Secretarial Education |
| 🔬 School of Science | Courses in Integrated Science combinations, Mathematics combinations |
| 🧾 Application Details | Available at No. 1 Old Path Close, Enugu; Contact: 07062146653, 08114924929 |
Essential NCE Admission Requirements
A sparkling future in education requires a solid foundation. Here's what you need to be eligible:
Basic Academic Credentials: Secure a minimum of 4 credits in your Senior School Certificate Examination, be it from WAEC, NECO, or any recognised equivalent.
JAMB Examination: An acceptable score in the Joint Admissions and Matriculation Board (JAMB) Examination as determined by the institution.
Courses on Offer
Venture into the depth of academic disciplines awaiting your exploration:
SCHOOL OF ARTS AND SOCIAL SCIENCES EDUCATION
CRS/Economics
CRS/History
CRS/Mathematics
CRS/Political Science
CRS/Social Studies
Economics/English
Economics/Igbo
Economics/Mathematics
Economics/Political Science
Geography/Economics
Geography/Social Studies
History/Economics
Social Studies/Economics
Social Studies/Igbo
Political Science/English
Political Science/Mathematics
Political Science/Social Studies
SCHOOL OF LANGUAGES
English/CRS
English/French
English/Igbo
English/Social Studies
French (Double Major)
Igbo/CRS
Igbo/French
Igbo/Political Science
Igbo/Social Studies
SCHOOL OF VOCATIONAL EDUCATION
Business Education
Accounting Education
Secretarial Education
SCHOOL OF SCIENCE EDUCATION
Integrated Science/Economics
Integrated Science/Social Studies
Mathematics/Economics
Mathematics/Integrated Science
Mathematics/Social Studies
SCHOOL OF EDUCATION
Curriculum & Instruction
Educational Foundation & Admin
Educational Psychology
General Studies Education
Primary Education Studies (Double Major)
Embarking on the Application Journey
Where to Purchase the Form?
Drop by at:
No. 1 Old Path Close, Independence Layout,
Opposite ESUT MSP, by Nkpokiti Junction,
Enugu, Enugu State.
Queries or Clarifications?
For a personal touch or detailed guidance, ring up:
📞 07062146653, 08114924929.
Become part of the prestigious Peaceland College community and mould the future with knowledge, skills, and passion!
RECOMMENDED: List of Schools Whose Post UTME Forms are Out.