FUOYE Admission List for 2023/2024 Academic Session
The Federal University Oye-Ekiti (FUOYE) has released its admission list for the 2023/2024 academic session, featuring names of candidates offered provisional admission into undergraduate programmes. The list is currently available on the JAMB admission status portal, with ongoing updates.
---
---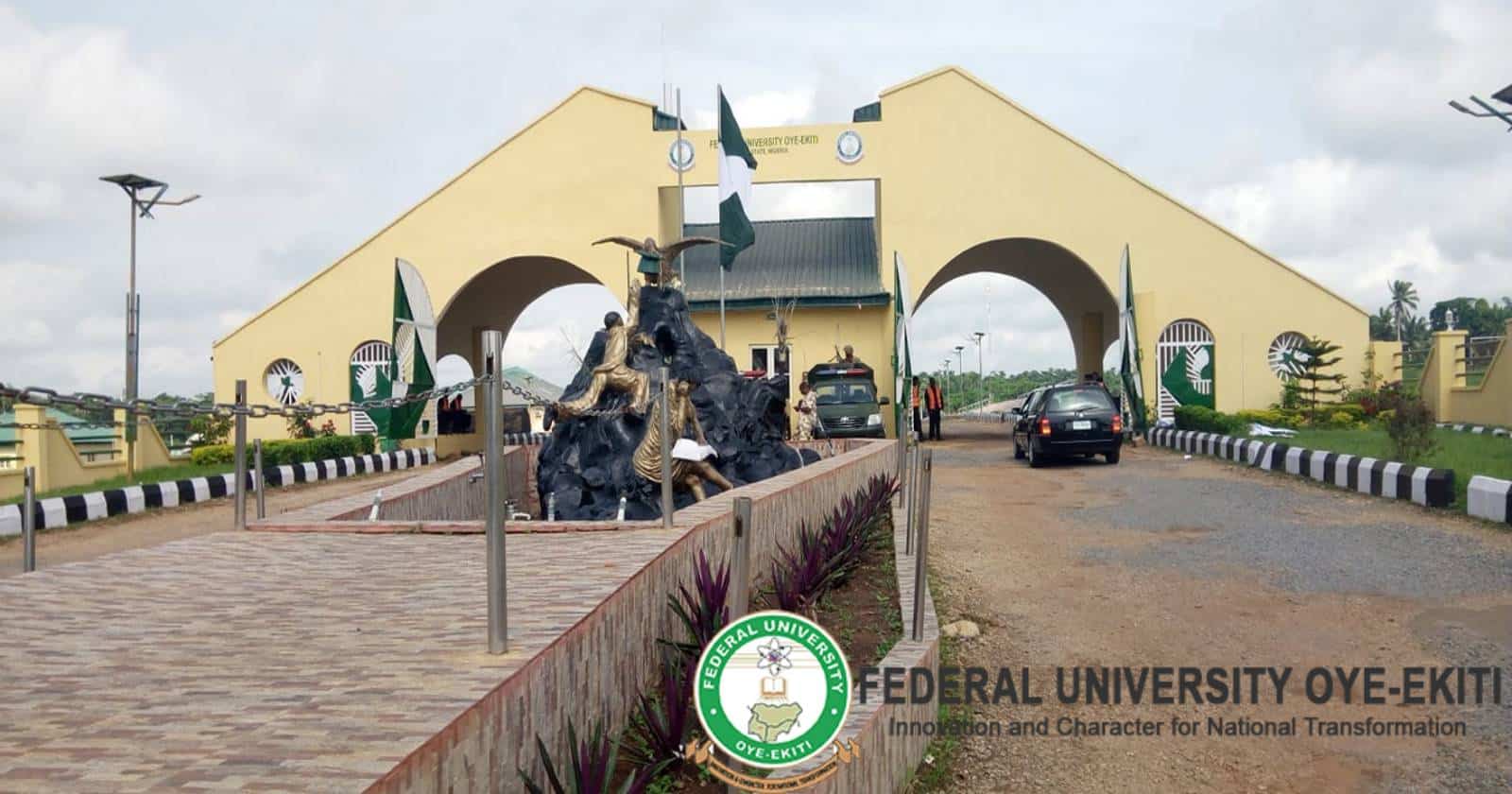 Federal University Oye-Ekiti (FUOYE), a renowned institution of higher education, has made public the roster of candidates provisionally accepted into its diverse array of undergraduate programmes for the academic session of 2023/2024. This formal announcement serves as a pivotal informational update for all the applicants who participated in FUOYE's admission process.
| | |
| --- | --- |
| 📋 Admission List | Now available online |
| 🏫 University | Federal University Oye-Ekiti (FUOYE) |
| 📚 Programmes | Various undergraduate courses |
| 🌐 Where to Check | JAMB admission status checking portal |
| 🛠️ How to Check | Log into JAMB profile, click on 'Check Admission Status', enter details |
| ⏳ Ongoing Process | Admission is still in progress; regular checks advised |
| 📜 Post-Admission | Login to JAMB CAPS, accept/reject admission, print JAMB admission letter |
| 🔄 Course Change | Option available for change of course if needed |
The Online Availability of FUOYE Admission List
The admission list of Federal University Oye-Ekiti is now accessible online. Candidates seeking to confirm their admission status can follow a designated protocol detailed below.
How to Confirm Your Admission Status: Detailed Guidelines
Utilising the JAMB Admission Status Checking Portal
At this time, the only platform through which prospective students can ascertain their admission status is the JAMB admission status checking portal. Here is an exhaustive step-by-step guide to navigate through this:
Accessing the JAMB Portal:

Begin by visiting the official JAMB online platform at https://efacility.jamb.gov.ng/.

Authentication:

Use your JAMB username and password to log in.

Navigating to the Correct Tab:

Once logged in, scroll down the page to locate the tab titled "Check Admission Status" and click on it.

Inputting the Essential Data:

Choose your examination year and input your registration number in the designated field.

Verifying the Admission Status:

Finally, click on "Check Admission Status" to get a glimpse of your admission situation or click on "Access my CAPS" for a comprehensive view of your admission status, along with other associated services.
To Those Still in Admission Limbo
If you have yet to obtain admission, be assured that the admission process remains ongoing. It is imperative to routinely consult both the JAMB and FUOYE websites for updates concerning your admission status.
Post-Admission Formalities for Successfully Admitted Candidates
Action Points Post Admission Confirmation
Upon successful admission into FUOYE's undergraduate programmes, candidates are compelled to take several important steps to solidify their position:
Accept or Reject Admission on JAMB CAPS:

Log into the JAMB Central Admission Processing System (CAPS) to either accept or reject your admission offer. Further guidance can be found here.

Printing the Official JAMB Admission Letter:

After securing your admission, the next step is to print your JAMB admission letter.

Course Revision on the JAMB Portal:

Should you be admitted into a course different from the one you originally applied for, an application for change of course is necessitated. Instructions for this can be accessed on the JAMB Portal.
Upcoming Update on FUOYE's Website
This article will be promptly updated once the admission list is made available on Federal University Oye-Ekiti's official website. At that time, candidates can follow the procedure below to check their status on the university's website:
Visit FUOYE's Admission Portal:

Navigate to https://ecampus.fuoye.edu.ng/putme/.

Provide Registration Number:

Input your registration number in the required field.

Access Admission Status:

Click on 'Login' and subsequently on 'Admission Status' to view your admission outcome.
NOTE: All admitted candidates will be required to pay a non-refundable total sum of Fifty Thousand Naira Only (N50,000) only as Acceptance and Clearance Processing Fee [SEE: FUOYE Admission Acceptance Fee Payment & Registration Procedures]. Please note that any candidate who fails to accept the offer of admission on/before the stipulated deadline as stated in the registration guideline should consider the admission forfeited. You will be prompted to pay Ten Thousand Naira Only (N10,000) being part of the total payable sum as Clearance Processing Fee upon the Clicking "Click Here to Accept Admission Offer" button.
Congratulations are in order for those who have successfully made it to the Federal University Oye-Ekiti's admission list for the 2023/2024 academic session.
RECOMMENDED: List Of Schools Whose Admission Lists Are Out.