WAEC Says it's Bound to Implement FG's Curriculum
---
---
WAEC Says it's Bound to Implement FG's Curriculum: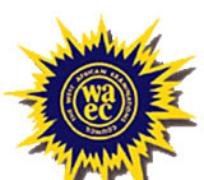 The West African Examinations Council says it is bound to implement the Federal Government's curriculum for secondary school and adopt such for its examinations.
The WAEC Deputy Director, Public Affairs in Lagos, Mr. Ari Yusuf, stated this in an interview with our correspondent on Wednesday.
Before you proceed, check WAEC New Syllabus for 2014.
He spoke against the backdrop of criticisms levelled against WAEC for adding 39 new subjects to its examinations.
According to Yusuf, the National Council on Education and the Nigerian Educational Research and Development Council, both organs of the Federal Government, had adopted the subjects before the council introduced them into its examinations.
He explained, "At a meeting where the NCE, the federal and state ministries of education, examination bodies and other agencies agreed to draft and implement a new curriculum for the country, it becomes difficult at that level for WAEC not to adopt it.
"As far as education in Nigeria is concerned, the National Council on Education is the highest decision-making body, not WAEC.
"Interestingly, most of these trade subjects causing controversy here have been offered in Ghana for several years now. But I think Ghana has better equipment in place than Nigeria."
He, however, noted that the Federal Government made the registration of these new subjects optional for pupils in this year's examination.
Meanwhile, a timetable released by the council for the May/June examinations showed that candidates who registered for Food and Nutrition took the paper on Wednesday, March 12.
Others such as Trade/Entrepreneurial subjects will come up between March 31 and May 8.
Also, the National Examinations Council, in its timetable, said it would conduct examinations for the new subjects between May 22 and June 17.