FUOYE Inducts First Engineering Graduates
---
Last Updated on
---
No fewer than 41 engineering graduands of the Federal University Oye Ekiti (FUOYE) have been inducted into the Nigerian Society of Engineers (NSE) during a ceremony for the 2014/2015 and 2015/2016 graduating set.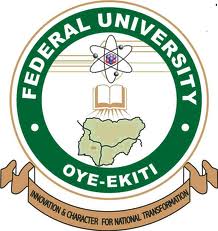 As part of the one-week programme to mark the first convocation of Federal University Oye Ekiti, graduating students of Faculty of Engineering of the university were on Friday April 28, 2017, inducted into the Nigerian society of Engineers (NSE)
These students graduated from the first five departments of engineering established in the university these are: Civil Engineering with eight inductees, Electrical Electronics Engineering with fourteen inductees, Material and Metallurgical Engineering with seven inductees, Mechanical Engineering with seven inductees and Mechatronics Engineering with six inductees
In all forty one graduands were inducted into the society, including Okeowo Oluseyi who graduated with first class honours in Electrical/Electronic Engineering and was best graduating student.
Highlights of the occasion were the formal induction exercise conducted by the president, The Nigerian Society of Engineers, Engr. Otis Oliver Anyaji, who was represented as well as speeches and addresses delivered by some important personalities.
Representing the Vice Chancellor, Prof. Kayode Somerekun, the Deputy Vice Chancellor, Prof R .A Omolehin described Ikole campus as the salt of the university as it hosts the edge which FUOYE has over its sister universities in the form of a Faculty of Engineering. According to him, none of the other eleven universities established at the same time as FUOYE in 2011 has an engineering faculty. He also revealed that Faculty of Engineering qualifies FUOYE to benefit from the Petroleum Trust Development Fund, PTDF, and announced that the faculty would benefit in the upcoming facility upgrade. He thanked the ruler and people of Ikole community for their unflinching support to the university.
The Vice Chancellor, who thanked God for the grace to be part of a historical landmark, was happy to see the graduation come true, noting that the induction offered them the platform to become corporate members of the society.
He disclosed that the number of departments in the Faculty of Engineering had risen from five to seven, and would still increase, based on the understanding that Engineering drives technology.
The vice chancellor promised that all the university's programmes would be accredited by the relevant accreditation bodies and vowed that by the time NUC comes in November 2017; all FUOYE programmes would have been accredited.
He commended the Faculty of Engineering for preparing the inductees and NSE for its effort in ensuring that the Engineering profession is adequately guided to weed off quackery.
TAGGED: www.fuoye.edu.ng | Federal University Oye-Ekiti : FUOYE